The Only Way to Arrive On Your Wedding Day is in a Limo from Rochester Limos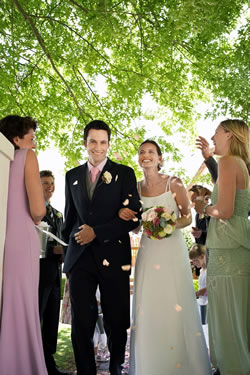 Your wedding day comes but once in your life so it's best not to leave anything to chance. If you are going through the wedding planning process now, you may be so fed up with all the work that needs to be done that you may be happy to roll the dice on some details. As tempting as it may be, having your wedding meticulously planned will allow for the wedding day you always dreamed of.
For everything from the venue to the chinaware you'll have at your guests' tables, you've probably mulled over multiple options trying to decide which is the best for your big day. When it comes to the transportation plans, there really is only one choice for your wedding day. Having your own limousine on your wedding will ensure your transportation is as reliable as your party planner (assuming you have a great one!). If you haven't considered getting your own limousine for your special wedding day, here are a few reasons why it's the only way to go when it comes to wedding day transportation.
Reliability That Can't Be Beat
While you may think your cousin's 2001 van will be a perfect, reliable ride for you and your whole wedding party, think again. With a professional wedding limousine rental company in charge of getting you where you need to be on your wedding day, you can sit back and relax (as much as is possible at least). Your driver will be sure to plan plenty of time to account for any hiccups along the way and will do everything in their power to get you to the venue on time.
Unparalleled Luxury
Having your own limousine on your wedding day means you'll be hard pressed to find a more comfortable, luxurious option for your wedding transportation. If it's been a while since you have been in the back of a limo, you'll be pleasantly surprised when you open the door to be greeted by the sight of long plush seats with perfect lighting to set the mood.
An Experience All Your Own
Just because other people have gotten limousine chauffeurs for their wedding day doesn't mean your experience will be just like theirs. If you'd like to make the ride to your wedding venue unforgettable, take some steps ahead of time to make sure it is. With a professional limousine rental company right here in Metro Detroit, you can plan ahead to have a custom experience not limited to having champagne waiting for you in the backseat once you get inside. To have the perfect wedding playlist ready to go, make sure to spend some time loading your favorite songs onto your phone or other music device to plug into the limo's speaker system.
To Receive A Free Quote on A Metro Detroit Wedding Limo Rental
To find out more reasons why there really is no other way to get to your wedding other than a limo, and to book your wedding limo today.  Contact Rochester Limo – Detroit's Choice for Wedding Limo Rentals – 248.289.6665.