Top Date Night Spots in Royal Oak and Ferndale – We'll Do The Driving!
When it comes to date night in Detroit, there's never a shortage of choices for great bars and restaurants. With so much going on downtown these days, it seems like every other day there's a new place to go! However, if you'd like to stay a little closer to home, it can be a challenge to find the perfect venue for the evening. For those who are looking for a great spot in Royal Oak or Ferndale for your next date night, you've come to the right place. While there are plenty of great date night spots in Oakland County, there really is only one way to get there: your own luxury town car or SUV. With your own personal chauffeur, your only challenge will be finding the perfect spot! Here are just a few places to get you started on your search for the perfect date night spot in Royal Oak or Ferndale.
Valentine Distilling Co.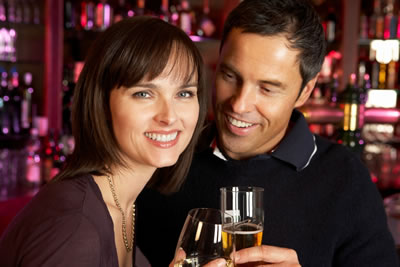 For some delicious craft cocktails in Ferndale, look no further than Valentine Distilling Co. in Ferndale With a cocktail lounge serving up cocktails made with their own distilled alcohol and appetizers in a romantic setting, this is the perfect place to spend your next date night. If you want to just get started here and head somewhere else after a drink or two, your driver will be outside waiting to take you to your next destination. With a metro Detroit town car and SUV service, you won't have to worry about catching a ride with a phone app or calling a traditional taxi company!
La Dulce

If you were looking to spend your date night, or even date day, a little further north, La Dulce in Royal Oak would be the perfect spot to do so. As they are open for brunch, this would be the perfect spot to get your day started as you sit comfortably in plush seating and pick out your favorite wine and tapas combo. When you're ready to head out, you won't have to give up any of the luxury you enjoyed inside the restaurant. Your elegant town car will have plush leather seating and plenty of leg room to make sure you aren't cramped for space or style as you make your way through the city.
Anita's Kitchen

For the best Mediterranean food in Oakland County, Anita's kitchen in Ferndale has got you covered. With a dimly lit and romantic setting, this would be the perfect spot to have a date night accompanied by hummus. They also have an extensive wine list for you and your date to enjoy. When you are ready to call it an evening, your luxury town car will be waiting right outside to bring you back to the comfort of your own home without any trouble.
Now that you have your place picked out in Royal Oak or Ferndale, it's time to make your reservation with Metro Detroit's choice for limo, sedan and SUV rentals! To reserve your luxury town car or limo, call Rochester Limos at 248.289.6665 today!