Top Date Night Spots in Detroit: Leave the Driving To Us!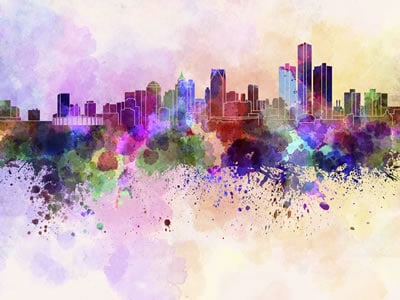 Heading out for a nice date night in the city of Detroit is never a bad idea. If you have spent a lot of your life in the Metro Detroit suburbs without heading downtown too often, you aren't alone. Tons of people who live in the Detroit area are just beginning to discover our great city as it makes a monumental comeback. For those out there who want to head into the city for a date night in Detroit, you've come to the right place!
To help make the night even more memorable, get your own limousine, SUV or town car to help you create the date night of your dreams. With your own limo, SUV or town car rental, you'll be able to focus on enjoying your night on the town without having to worry about navigating the city streets, finding parking, and driving home after a few specialty cocktails. Here is part 2 of our top date night spots in Detroit that will be sure to please and impress.
Vertical Detroit
For the wine-o looking for a nice night out on the town, Vertical Detroit is the place to be. With a wine list to impress any enthusiast and a setting that anyone would enjoy, Vertical Detroit is one of our top picks for a date night in the D. Their menu features small plates with locally sourced ingredients and an extensive beer and cocktail list for those looking for a different type of drink. With a professional chauffeur picking you up at home and bringing you right downtown, you can begin your date night as soon as you step out the door, without having to think of the dreaded "DD."
Santorini Esitatorio
If you want a more upscale experience but also want to experience some culture on your date night in Detroit, check out Santorini Estiatorio in Greektown. Voted one of the best Greek restaurants, their menu features Greek classics like saganaki and octopus. If after your meal you want to do a little bit of exploring around the city, simply tell your chauffeur where you'd like to check out next and away you go! With a dedicated limo driver to Detroit for the night, no need to wait for a ride in the cold or call a cab!
Detroit Vegan Soul
If your significant other happens to be on an animal-free diet, Detroit Vegan Soul is the place for you. Located in West Village, this restaurant has a 100% plant based menu with organic ingredients. As a great brunch spot, this is the perfect place to begin a day of exploring the city with your other half! Your limo, SUV or town car will be waiting for you right outside when you're ready to head out into the city.
To learn more about getting your own Detroit limousine, SUV or town car rental for your next date night in the city, contact Detroit's Choice for Limo Rental Service today!