The Perfect Date Night Addition: A Luxury Limousine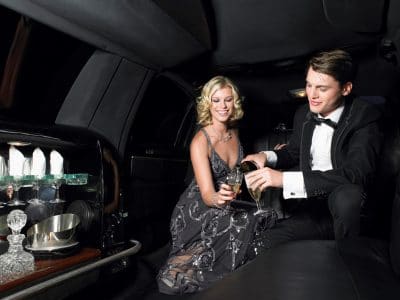 Finding the time to get out of your routine and out onto the town with your significant other can feel like a job at times. With busy schedules and full calendars, it can seem like there is never the right time to just head out for the night for a great dinner, movie, or a show in downtown Detroit. While it may be difficult, it is certainly necessary. Especially with winter in full swing here in southeast Michigan, there has never been a better time for a fun night out to recharge your batteries and spend some quality time with your better half.
Dinner, Drinks, and a Private Chauffeur
Once you have made the time to get out of the house and head downtown for an unforgettable night out, you will need to figure out where to go and how to get there. With all the recent development in the restaurant scene in Detroit, you certainly won't have a hard time finding a great place to enjoy some dinner and drinks. If you also want to see a performance while you're out of the house, downtown Detroit won't let you down.
While finding the right places to go and things to do may not be too difficult, figuring out just the right way to get there can be a bit more challenging. With so many options from driving yourself to calling a cab, how do you know which is the right choice for you?
If you are looking for a romantic evening away from home, look no further than getting your own chauffeured limousine to bring you into the city for the night and back home when you are ready to head back. By getting your own limousine to bring you into and around the city, you can take all the hard work out of navigating the city and leave it up to the professionals.
Peace of Mind and Luxury for Your Date Night in Detroit
When you rent out a limousine for the evening, you will also enjoy the benefits of having a seasoned chauffeur who knows their way around the city. With this in mind, you can rest assured knowing you have nothing to worry about as you relax in the backseat of a luxurious and well maintained limousine.
Without having to worry about the transportation details for the evening, you can focus more on enjoying your time out of the house with your special someone. With your own private chauffeur, you won't have to worry about finding a parking spot, which can be incredibly frustrating, paying for that parking, walking miles to your destination, and then doing it all over again if you want to try someplace else for an after dinner drink or dessert. Finding a ride share isn't always easy either, and it's sometimes scary not knowing who will be your driver and how safe they are. Getting downtown to enjoy your night can be frustrating enough, so why not make it special by renting a luxury sedan, SUV, or limousine for your next date night? You and your special someone will both be treated to our excellent service, and you won't have to worry about being able to enjoy adult beverages at each location you try, because we will be taking care of the wheel.
There are a ton of benefits to renting a limousine for your next date night or special occasion. To learn more and to make your reservation, visit www.rochesterlimos.com today!