Sunday Funday in Detroit the Right Way with a Detroit Party Bus Rental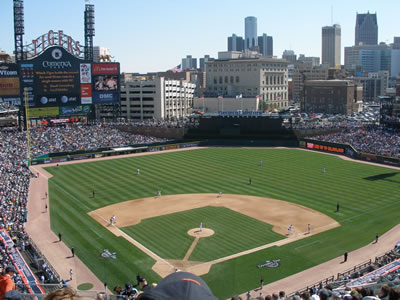 Summer is the perfect time to get some good friends together and get out of the house. With the weather on the up and up, people all over Metro Detroit are ceasing every opportunity to get outside and soak up the sun. Luckily, the good weather seems to be here to stay so the opportunities to do some city exploring are only growing. Before the summer gets into full swing, now is the perfect time to start planning your summer excursions in Detroit.
To get the ball rolling, it's a good idea to start thinking about how the day will go. When it comes to transportation, making plans for how to get downtown and around the city for the day couldn't be easier. With your own Detroit party bus, you and your friends won't have to worry about getting around from place to place throughout the day. Having the transportation figured out is just half the battle. To get you started thinking of places to go and things to do for your day out on the town, check out our list of great new places around the city.
The Huron Room
If you are looking for a place to enjoy some brunch to get your day in Detroit started, The Huron Room is a great choice. With a full menu and bar, you are sure to be able to find something for everyone at this downtown restaurant. With a party bus rented out for the day, getting to The Huron Room could not be easier. Just gather your group at a pick up point and tell your driver when and where to meet you. From there, just leave it up to your chauffeur to get you into the city and get the day started right!
Tiger's Games
With the Detroit Tigers playing right in the heart of downtown at Comerica Park, heading downtown for a day game is always a great idea in the warmer months. Even if there are some in your group who aren't huge baseball fans, it's hard to beat the atmosphere of a ballpark in the summer. With your own party bus rented out for the day, you will be able to move around the city as you like after the game. This means that every bar or restaurant in the city is within reach!
Wright & Company
If the day is beginning to come to an end but you want one more meal before you head out of the city, Wright & Company is a great place to round out the day. When you are ready to head home, your Detroit party bus will be waiting right outside to bring you back to your chosen location after a full day of fun out in Detroit.
For More Information on Renting a Party Bus for  a Trip to Detroit
While these are just a few of the places to go and things to do in the city, you won't find a shortage of fun in Detroit, no matter what you do. To learn more about getting your own party bus to explore the city with friends this summer, contact Rochester Limousine today!  Detroit's Choice for Party Bus and Limo Rental Service.