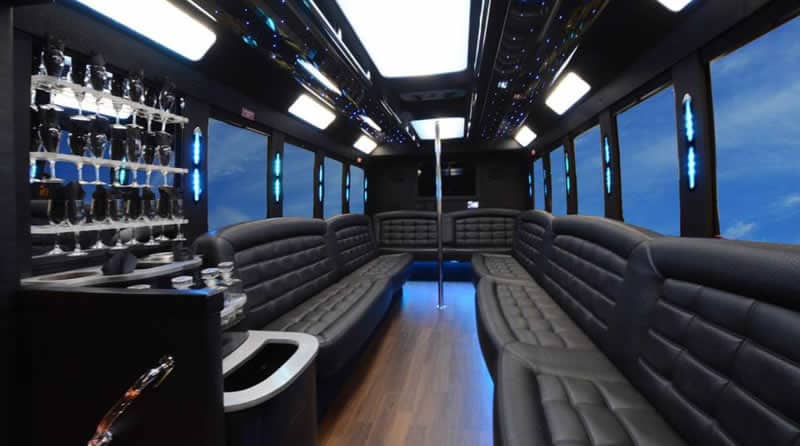 Bar Hop Downtown in Style with a Party Bus
Looking for an excuse to get out of the house this winter? Most of us are. Here in Michigan the cold and gray of winter can seem to drag on and on, making us want to stay inside until spring comes around again. For those of you looking for something fun to do that will get you out of the house, think about heading downtown to check out some of the new bars that have been popping up all over the city!
To make things a little bit more exciting, why not make your trip into the city an adventure all on its own?  When you have your own chauffeured party bus rented out for the evening, you'll feel like the star of the night as you make your way down the highway. Reserving a Shelby Twp party bus for the evening comes with a ton of benefits other than just having a cool ride. If you are looking for some inspiration on where to take your party bus for your next excursion into Detroit, here are a few suggestions for where you can go!
1. Go Back in Time at Café D'Mongo
If you want to have a taste of history with your cocktail or beer, Café D'Mongo would be a great place to check out. Modeled after an old speakeasy, you are sure to get the feeling you have travelled back in time to the roaring '20s as you step through the doors. With your own party bus, you can be dropped off right in front of the bar and picked up when you are ready to head to another place or back to Shelby Twp. A party bus eliminates the need to find parking and walk what seems miles to your destination. Treat yourself to the best in class, just like the aristocrats in the early 20th century, and get picked off, dropped off, and chauffeured around town in your most dapper clothing.
2. Get Your Creative Juices Flowing at The Standby
If you want to come back into 2017, check out the Standby for their collection of progressive craft cocktails and large beer selection. You won't have to worry about a one drink limit because your party bus will make sure you stay off the roads as you make your way through downtown Detroit. If you want to stay for a bite to eat, they have a menu featuring locally sourced ingredients to have you feeling right at home.
3. Get Classy at The Royce Detroit
If you want to step your environment up a notch into one of the classier establishments in downtown Detroit, look no further than The Royce. They have effortlessly combined a classy atmosphere with a cozy and inviting ambiance. You will enjoy their impressive wine list and small menu if you want to grab a bite. When you are ready to head back to Shelby Twp for the night, just walk back up the carpeted steps of the bus and away you go. If it's after closing time and you want to enjoy a post-dinner aperitif, make sure to have some of your favorite drinks waiting for you on the bus!
Headed Downtown Detroit ? Reserve a Shelby Twp Party Bus
Contact Rochester Limousine today to learn more about renting a Shelby Twp party bus for your stylish night out in Detroit!
Do you live in Pontiac, Michigan and need to rent a limo to take you Downtown Detroit?
Be sure to read our article: Take Your Night Out in Detroit to the Next Level with Pontiac Limo Service