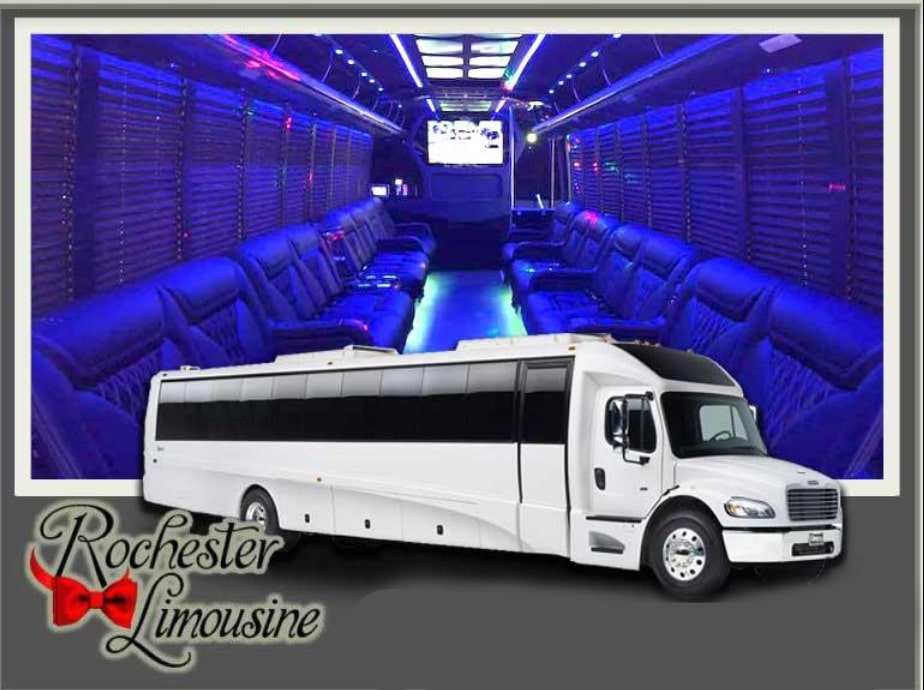 When you know ahead of time you're planning to let loose and get wild for a special occasion, like a bachelor or bachelorette party, making sure you have the right transportation is crucial for enjoying a stress-free night. Luckily, our party buses at Rochester Limousine are:
Safe
From our vehicles, to our drivers, every aspect of our services here at Rochester Limousine are designed and meticulously managed to protect our passengers and ensure a safe, enjoyable journey for all. In fact, apart from being voted the "Best in Metro Detroit" twice, our fleet is actually known for being the newest and hottest in the city, which means our luxury vehicles all have the latest safety and design features you'd expect only from the best! Plus, our drivers always keep track of traffic, and know the best routes to any destination you have in mind, allowing you to always travel with confidence.
Stylish
Whether you're looking at our largest land yacht (pictured above), or our smallest passenger party bus, you will notice that each vehicle is equally sleek and stunning in its own right. That's means, no matter where you're traveling, you will always arrive ready to impress regardless of what was going on before you pulled up. In a party bus, you can party as hard as you want to and still roll up looking sophisticated – it's just one of the perks of traveling VIP! So what are you waiting for? If you want those velvet ropes to open wide, there's no better way than showing up in a stylish ride, and there's nothing more stylish than a party bus from Rochester Limousine!
And Have Everything You Need!
Of course, no bachelor or bachelorette party would be complete without a vast treasure trove of entertainment and interesting amenities to enjoy onboard in between stops, which is why all our party buses are packed for pleasure. From spacious cabins filled with luxurious wrap around seating, hardwood floors, and adjustable LED lighting, to plasma TVs, advanced entertainment systems, and private bars, our party buses have everything you need and more! Simply choose which features are most important to you and decide how much space you need, and our experts will match you with the perfect party bus for your unique needs.
Reach out to our experts at Rochester Limousine now and we might even be able to help you save even more by reserving your wedding and bachelor or bachelorette transportation at the same time! If you are in the Metro Detroit area and are looking to reserve transportation for a bachelor or bachelorette party, please book your transportation with us by contacting us today by calling 248.289.6665 or by filling out the request a quote form.