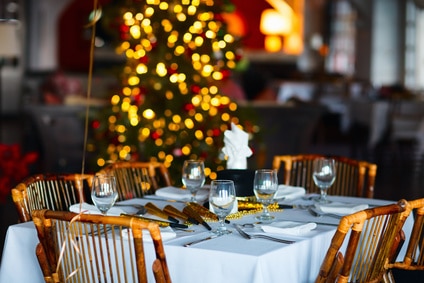 Year after year, the annual holiday work party can become anything other than exciting. The same type of potluck food is served, and everyone is secretly wishing they didn't need to spend another moment at the office, especially after work hours. But this shouldn't be the norm for the end-of-the-year company party; Employees should truly enjoy themselves as they appreciate the year's accomplishments and feel they are being celebrated for all they do. Hard work shouldn't be taken lightly, and workers should be shown how much they matter.
Why Reserve a Party Bus This Year?
For this year's holiday work party, take everyone for a ride in a fabulous party bus!
1. Get Everyone Out of The Office
The very first thing to do to add some life back to the work party is to change the venue. No one wants to hang at the office anymore than they need to, and a party that is surrounded by all the things that remind you of work and responsibility is not going to put anyone in the partying mood. Get everyone out of the workplace and put everyone inside a luxurious, incredibly fun party bus. They aren't called party buses for no reason! Once everyone enters the bus rental, they will truly be in an environment that is all about letting loose and enjoying yourself. Many party buses have bars inside, along with speakers and music plugins. They can also accommodate up to a maximum of about 30 people so if you have a small to medium sized business, it shouldn't be a problem to include every employee.
2. Hop to All the Detroit Hot Spots
Once the party venue is moved out of the office, don't settle for only one place to party. A party bus can take everyone around town to a variety of bars, night clubs and restaurants depending on what everyone is in the mood for. The party coordinator can also come up with a list of venues to visit as the evening's itinerary and share this with the driver beforehand to cut out any time wasted on decisions. On the way to each spot, the partying doesn't have to end. Alcoholic drinks can be served, music can be played and dancing can even take place inside the party bus.
3. Ensure Everyone is Safe
For as long as people are drinking, and the party bus is traveling from place to place, no one will be driving themselves or anyone else. A party bus ensures everyone is safe for the entire night of partying, and no one has to potentially drive under the influence, or risk fighting through traffic and finding parking. A party bus is truly the best way to spend a night on the town and have fun every second of it. You and your employees can take advantage of all Detroit has to offer without any inconvenience whatsoever. In fact, the journey may very well be more fun than each destination!
Reserve a Detroit Party Bus from Rochester Limousine
If at your last holiday work party you started to notice people yawning and looking towards the door, it's time to change things around this year. Book a party bus rental in Detroit and give everyone the work party they wished for ages ago!
Contact Rochester Limousine today at: 248.289.6665