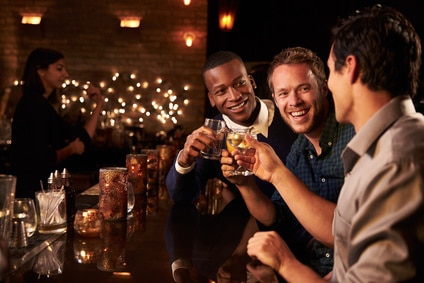 The time has finally come. The first guy of your group has decided to tie the knot. Even if it's not the first (or second, or third…) the occasion still calls for a grand celebration. No, we aren't talking about the wedding reception here, we're talking about the pre-party party. The legendary night to be remembered forever, even if you would rather not remember it. That's right, it's time for the bachelor party. If you have been elected to make the arrangements for the big bash before the real event, you may feel like the world's resting on your shoulders. So the question is, what are you going to do on the big night? If the options seem endless, why not have them all? That's exactly what a chauffeured party bus allows you to do. Instead of choosing a bar or club to spend the evening, you can go from place to place and never miss a beat. Here are the top 3 reasons you need a party bus for your upcoming bachelor party.
1. Custom Cocktails
When you have your own party bus, you're free to choose what's on the drink list. Have someone in the group who's particularly picky about what they drink? Not a problem as the liquor store is at your disposal, just make sure you stop off there before you get on the bus. In addition to being able to create the drink menu, you also have the benefit of paying liquor store prices for these drinks as opposed to bar prices.
2. A Self-Guided Tour
Your professional bachelor party bus chauffeur will be happy to take you all around the city and help those who might be from out of town experience all your city has to offer. This could mean going from different strips of night clubs, or heading down to the riverfront and looking at the Canadian skyline as you toast to an eventful evening. Whatever your dreams for the night may be, a luxury party bus can help them come true.
3. Freedom and Safety
One of the best parts of having your own party bus for the night is that you aren't tied down to one place or area of the city. You are free to go from place to place as you wish. You can also be sure you'll be able to do this safely as you won't have to worry about driving yourselves or catching cabs to go from bar to bar. This can be a huge weight off the shoulders of those who fear they may have to be designated drivers for the night.
Ready to Book Your Chesterfield Twp Party Bus?
These are just a few of the reasons a party bus makes sense for your upcoming bachelor party. To learn more about our Chesterfield Twp party bus rentals and see which vehicles are available, Rochester Limousine today! We have the experience and party bus line up you need to make the night a success.