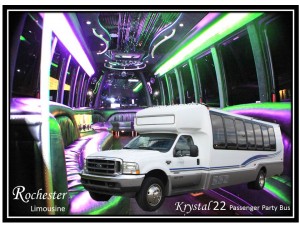 Big events require a big party. Whether it's a wedding, a concert, a Tigers game, or just a well deserved night out, you and your friends should truly live it up. While the event itself may already be planned, the transportation may not be. Having someone drive your group around will make the night that much more enjoyable since you won't have to worry about parking or driving under the influence. And what better way to be driven around than by a massive Utica party bus limo?
Utica Party buses are a very cool way to travel around town, but many people have never even considered renting them. Therefore, these people may not know what to look for when it comes to renting a party bus.
Here are some things to remember if you have been thinking about hiring a Utica party busto escort you on your special evening.
Research
Before you get too far ahead of yourself, be sure to look into which company will provide the best service possible for you and your party crew. You will want to make sure that your Utica party bus is not only big enough but that the company is professional and can answer all of your questions either on their website or by phone. Read the reviews and only make a judgment call once you have done some proper reading about each company.
Pay a Visit to the Company
Once you have chosen your company, you should try your best to head down to their offices to see their vehicles in person. The best companies will let you take a look at the fleet so you know ahead of time which party bus will be right for you. While at the company's shop, you'll be able to inquire about insurance. You probably don't want to get into an accident in an uninsured party bus, so asking about the insurance situation is a good idea.
Book Early
If you know the details of your event already, you should be sure to make your reservations early. Just as you wouldn't show up to an upscale restaurant the night of your anniversary without reservations, you shouldn't expect to be able to rent the proper party bus on the day of the event. Granted, there are times when last minute bookings can be made. However, it is always better to play it safe and book your party bus early.
If you are in the research phase of your Utica party bus rental, then you have come to the right website. Rochester Limousines has been catering to the Metro Detroit area for 20 years and has a sterling track record. We have a huge fleet of vehicles and are able to suit any and all needs of our customers. We offer party packages as well, so give us a call today to see just what we can do for you.