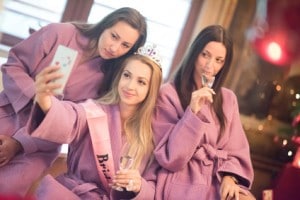 If you're getting married soon, you are sure to be incredibly excited, and rightfully so! You are about to embark on the greatest adventure of your lifetime with your husband, and it will surely be an unforgettable one. But why wait until your wedding day to have fun? Rent a Rochester limo for your bachelorette party!
Here are the top five reasons to Rent a Rochester limo for your bachelorette party:
Show Your Friends They Are Loved
You will want to go all out for your night, no doubt, and what better way to show that right away than picking your friends up in your own limo? Your favorite ladies will feel like they are part of something memorable with you, and it will definitely help everyone have an incredible time. Over the years, all of your friends will remember your special bachelorette party.
If you plan to do any drinking at all during your bachelorette party, this one needs to be made clear up front: instead of running the risk of getting into trouble, a limo service takes the burden away by being with you every step of the way. Everyone will be able to get to each venue safely, and while doing it in style! Don't let your night end up with a DUI or even an accident; ensure everything goes smoothly and safely by leaving it to us!
Keep The Party Going All Night
If you are planning on hopping a few clubs or bars in the downtown Detroit area, you'll need a reliable way for all of you to get to each destination. Our limo services can wait for you throughout the night, ensuring that you have the transportation you need, when you need it. If you all decide to take separate cars, coordinating everyone and finding and paying for parking, meeting up, etc., can be a real nightmare. Eliminate all of that by riding with us on your ladies night out! Here at Rochester Limousine, the fun never ends!
Make The Most Out Of your Night
If you're lucky, this will be the only bachelorette party you'll ever have. Why waste it worrying about transportation? The night will be over before you know it, so hiring a Rochester limo service will allow you to focus on experiencing this once-in-a-lifetime night with your closest friends. Your final night out as a "single" lady will surely be one to remember if you play your cards right, and we want to help you make it unforgettable.
Let us help you create the memories you'll hold for a lifetime. Rent a Rochester limo featuring leather seats, custom fiber optic lighting and Bluetooth sound systems. We've got everything you need for your bachelorette celebration. Call us at Rochester Limo today!