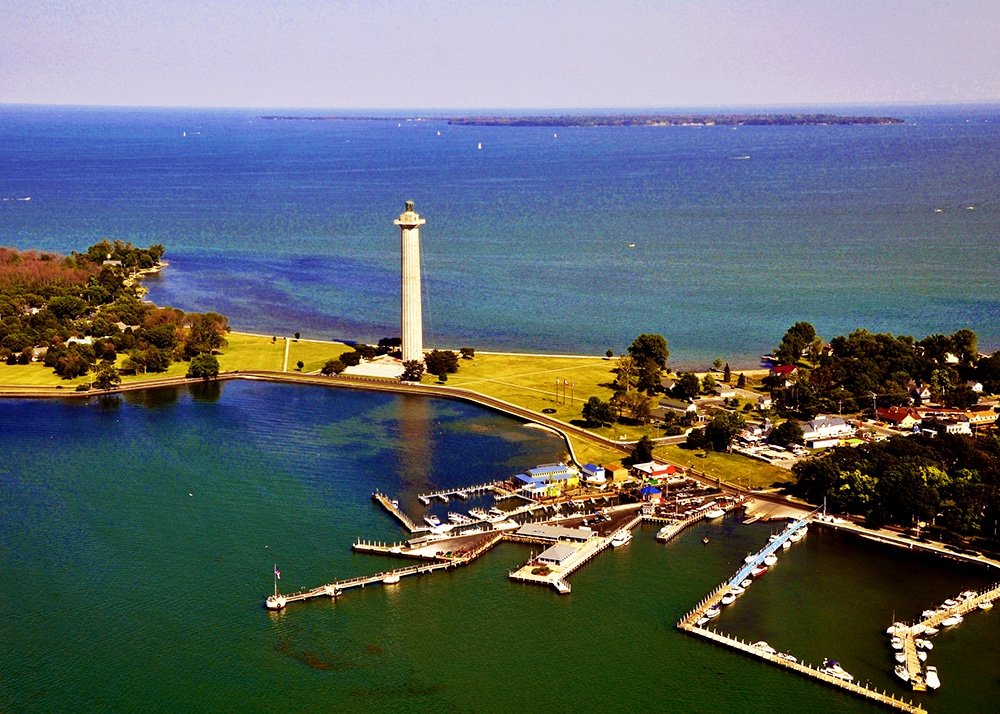 Ask any Michigander and they will tell you, one of the greatest perks of living in this state, is being surrounded by the Great Lakes. Among them are so many fantastic islands filled with fantastic attractions, it's like having a million perfect little secluded getaways all around you all the time! Of course, as far as best islands in Lake Erie are concerned, none stand a chance against Put-in-Bay. Take a look below to see just a few of the many attractions you can hope to find on this incredible island.
Perry's Victory & International Peace Memorial
Even if you may not have known what you were looking at, if you've ever been to Put-in-Bay before you've definitely seen this stunning landmark. Its stands tall over the water, more than 350 feet in the air, commemorating the glorious American victory garnered in the War of 1812. At the top, magnificent views of the entire island can be appreciated, or you can just enjoy its grandeur from the ground since it can be seen from nearly all over the island!
South Bass Island
If you're looking for exciting entertainment, historical landmarks, and tons of fun all in one place, South Bass Island will never disappoint. It's home to the William Perry Monument and the Village of Put-in-Bay, Ohio, as well as numerous quaint shops, amazing eateries, and more. Check in during certain times of the year and you may even find a few exhilarating events to take advantage of as well.
Perry's Cave
If you have kids and want to take them on an adventure unlike any other, Perry's Cave has to make it onto your list of stops. It offers an easy to traverse path, suitable for all ages and abilities, that leads to a massive opening with trickling water, shallow pools, and a mystical atmosphere that will blow your imagination wide open.
Butterfly House
If magic is what you're after, you won't find anywhere that offers more charm than the Butterfly House. Perfect for kids and adults alike, here you can explore lush gardens packed with all different species of butterfly up close and personal. Take great pictures, and make memories that will last a lifetime.
Heineman Winery
Heineman's is not just your average winery. If you want to see spectacular crystal formations, beautiful vineyards, spunky wildlife, all while enjoying a vast selection of delicious wines, however, it's exactly where you want to be. In fact, many people visit the winery exclusively to see the world's largest geode, which is available for viewing by taking their tour.
Just remember, once you actually get onto Put-in-Bay via ferry, aircraft, or private watercraft, public transportation is limited mostly to bicycles, mopeds, and golf carts – all of which are available for rent once you get on the island. Of course, that means if you don't want to abandon your vehicle at the ferry, you need to find another ride. Luckily though, we can help you take care of that. In fact, there's no better way to get you and your friends pumped up for a trip out to Put-in-Bay than by taking a ride in one of our exceptional party buses at Rochester Limousine. So please, rent yours today! If you are in the Metro Detroit area and are looking to reserve transportation for your Put-in-Bay excursion, please book your transportation with us by contacting us today by calling 248.289.6665 or by filling out the request a quote form.