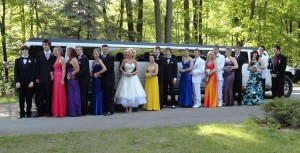 It's finally almost here: your daughter's or son's prom. Prom is a special time for young people. It gives them an opportunity to show off their beautiful selves right before graduating into the real world. You want your daughter or son and their friends to have a wonderful prom night, as any parent would. Why not book them a Rochester limo service for prom night? This is a big moment, and it should be treated that way.
Here are a few reasons why a Rochester limo service is a great idea for enhancing your daughter's or son's prom night experience.
Make a Scene
With all of the other people attending prom wanting to make a scene, your child's entrance will need to be grand. Having a Rochester limo pull up is the best way to ensure heads turn as people enter the hall. Your child and his/her friends will look stunning: shouldn't they be able to arrive in an equally stunning vehicle? A Rochester limo service is an extremely luxurious and classy way to make a scene upon arrival. Their party will be regarded as movie stars, no doubt.
Take a Large Group
Your child has a fairly large group of friends, and they all will be heading to prom. One way to get them all there is to have each of them drive with their dates in their own vehicles. Why split up the group like that when they could all pile into a party bus or stretch limo? Limos come in various sizes, and are able to accommodate groups of up to 30 people. Your child's friend group will love being able to travel as one unit, and the dates will love not having to drive. A Rochester limo service is able to provide ample leg room no matter the size of the group, which makes things way more comfortable for your child and their friends.
Peace of Mind
The one thing on your mind when your child leaves for prom is that he/she be safe that evening. With the chance that alcohol could be consumed at some point in the evening, safety should be top of mind. Unfortunately, it isn't for most teens. That's why avoiding it altogether by hiring a Rochester limo service is the best way to keep everyone safe on prom night. A parent's job is to think of the things that the kids don't. Booking a Rochester limo service is one of those things.
Prom is a special night, so make sure you are ahead of the curve and book your Rochester limo early. Our drivers will be able to make your child and their friends feel extremely glamorous, all while making sure they get there and back safe and sound. If you call Rochester Limousines now, we'll happily work with you to create the perfect prom package that will work for everyone. Don't delay – call today!