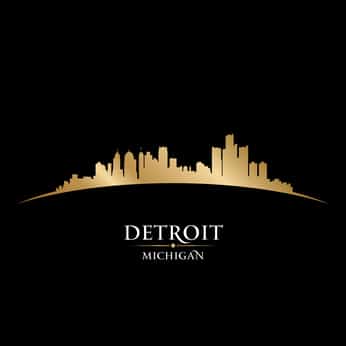 When the workweek finally comes to an end, we are all able to enjoy some time to relax and unwind with friends. While it's always great to hang around the fireplace or go to your favorite neighborhood bar, sometimes a night out on the town is really what you need. With downtown Detroit being so accessible to the suburbs nearby, it's a no-brainer when thinking of what to do for your next night out. If you haven't been into the city for a while, you are in for a treat. With all the recent renovations that have taken place downtown, you may not even recognize it! New restaurants, bars, and clubs have taken over what used to be abandoned buildings and all sorts of events are always taking place downtown.
If you live in Pontiac are worried about the logistics of your night out in Downtown Detroit, you are in the right place.  Booking Pontiac limo service for the night with a personal chauffeur takes the entire transportation burden off your shoulders. Not only will a limousine or party bus get you from place to place, but there are a ton of added benefits as well. To get a glimpse into the experience, consider the following points.
1. The Quickest Route to Safety
Driving in Michigan can get a little bit complicated with our unpredictable weather during the winter. When you add in not knowing where you are going or having a few too many cocktails, the outcome can be disastrous. When you reserve Pontiac limo service for the night, these worries become a thing of the past. If you are concerned about your safety on your big night out, look no further than a party bus or limousine. Your driver will be properly trained and licensed to make sure you are safe and sound.
2. The Only Highway Party
You can think of your limousine or party bus less like a car and more like your own personal private party. With plush seating, awesome lighting to set the mood, and wet bars and TVs, you may even forget you're on the road. You'll be able to get the evening off to a great start with a few of your favorite drinks as you make your way into the city for the evening. If you think you may get hungry, make sure to bring some snacks to share!
3. Keeping the Gang Together
The best part about reserving Pontiac limo service is the fact that you'll be able to keep all your friends and family joining you for the evening in one place. This way you'll be able to enjoy all the time you have together and celebrate whatever special occasions may be taking place, even if it's just the end of the work week.
Reserve Pontiac Limo Service to Take you Downtown Detroit
Party buses and limos are great options when you're thinking of heading into the city for a great night. Ready to book Pontiac limo service to take you Downtown Detroit? Contact Rochester Limousine by calling: 248.289.6665.
Do you live in Troy, Michigan and need to rent a limo to take you Downtown Detroit?
Be sure to read our article: Reserve Troy Limo Service to Take You Downtown Detroit