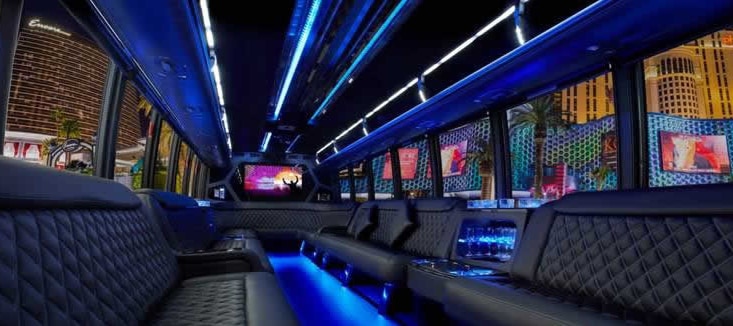 5 Wedding Party Bus Tips
When planning your wedding in Pontiac, Michigan you want the day to be special and memorable for everyone. And your wedding party bus is no exception. Here are five tips to ensure that the trip to your reception is as special as the wedding itself.
1. Take Pictures
Taking pictures may seem obvious. But the photographer and videographer hired for the wedding probably won't be on the party bus. And many people may forget to take photos. So take some photos yourself, and encourage others to capture every moment as well. Don't let these memories be lost. The photos of you and your guests having fun will make for some of the best pictures.
2. Dance Like Nobody is Watching
The party bus wasn't cheap, and neither was the wedding for that matter. In other words, make the most it. Don't be afraid to make a fool of yourself. Party buses are meant for partying, so stand up and dance the whole ride to the ceremony or reception.
3. Try Not to Make a Mess or Damage Things
Enjoying yourself to the fullest doesn't mean you need to make a mess, nor does it mean you can break things. Wedding party bus rentals require a deposit. And if you end up losing your deposit due to a mess, or having to pay more for damages, this isn't going to add to your special day. So, have fun and respect the party bus and you'll have a great experience without any repercussions.
4. Be Sociable and Get to Know People
Plenty of your wedding guests won't know everyone at your wedding so using the time together on the party bus is a great opportunity to introduce people and give them a chance to get to know each other. When everyone feels included and comfortable enough to let loose, the time spent on the party bus will be an amazing one.
5. Don't Drink Too Much Alcohol
You all want to have a good time on your wedding party bus trip and, as a result, alcohol will most likely be involved. That doesn't mean you should drink yourself silly, though. If you drink too much it could lead to drunken antics that you will regret. If you only drink in moderation, it's better for all involved, including the driver.
Your time spent celebrating on the party bus should be fun, carefree, and without any stress. After all the planning, rehearsals, and formalities, this is the time to let loose and enjoy all of your loved one's company.
Hire the Best Pontiac Limo Company
At Rochester Limousine, we offer party buses of various sizes to accommodate your family and friends and to provide for a truly memorable experience.
Call us today to book a party bus for your wedding, and other special events like the bachelor and bachelorette party!
If you are looking for a Pontiac limo company, call Rochester Limousine today. We are located at:
30 W. Silverdome Industrial Park Ct.
Pontiac, MI 48342
Call: 248.289.6665