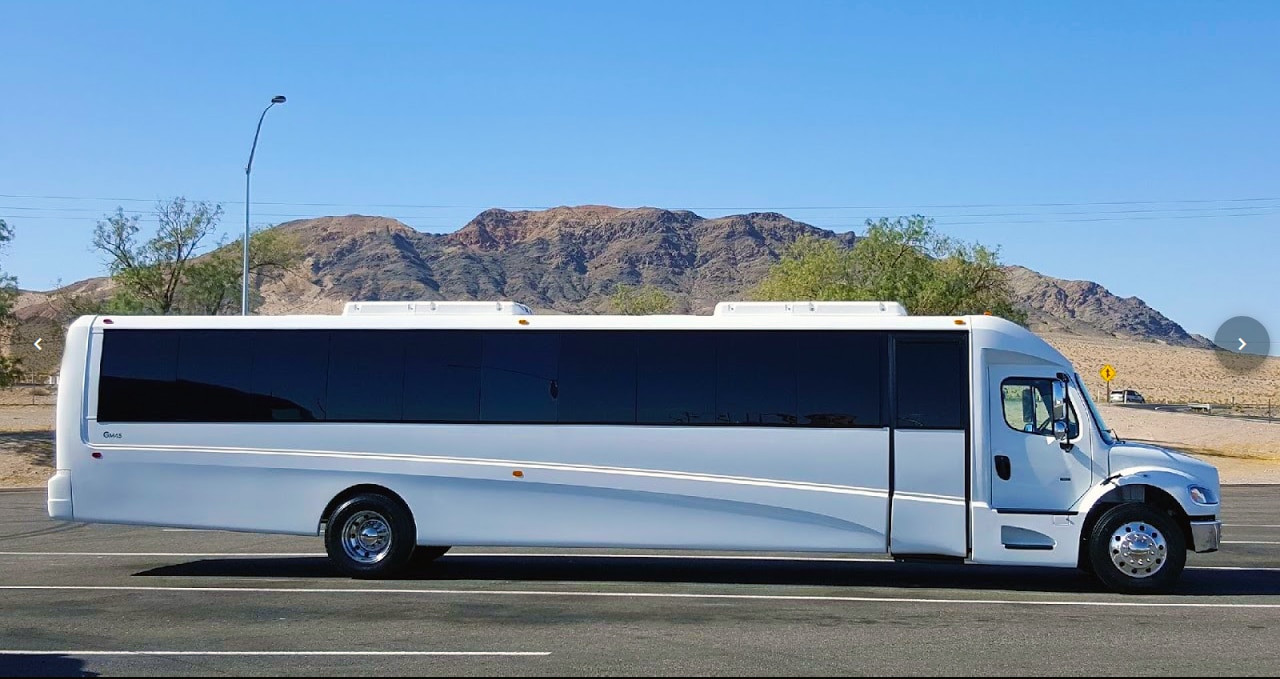 At Rochester Limousine, we offer vehicles suitable for any and every occasion. Which is right for you, however, depends on what you're looking for!
Perks Of A Renting A Party Bus
Party buses are all about space and luxury. If you have a large group of friends and you're all going somewhere together, like a concert or a bachelor/bachelorette party, party buses are designed to ensure your absolute enjoyment throughout your journey. Our largest party buses at Rochester Limousine (picture above), for instance, can offer seating for up to 47 people, panoramic windows, premium entertainment systems, state-of-the-art interior/exterior lighting, wood dance floors, custom bars, and so much more to ensure your night out is one to remember. Plus, you get to party knowing that our responsible drivers are watching out for your well-being every step of the way so you can relax and truly let go. Basically, if you want to party like a celebrity and live your evening out like a VIP, a spectacular party bus will not only meet your expectations, it will blow your mind!
Reasons To Love A Luxury Limo
On the flip side, limousines are all about class, luxury, and elegance. If you're going to a wedding, to a prom, or to some kind of upscale charity event for work, a limousine is going to ensure you arrive looking suave and sophisticated – while at the same time providing you all the comforts and amenities you'd expect from any other luxury transportation. If a luxury limo is your choice, you'll still have access to incredible entertainment systems, large bars, wrap around seating, wood flooring, primo lighting, and the safety features galore you'll need to entertain you on the road; you'll just be in a slightly smaller package. If intimacy and comfort are your two most important concerns, however, this shouldn't be a problem. Really the most important thing you need to consider is who will be lucky enough to join you on your travels!
All in all, if you're looking for any luxury vehicle to elevate your event or evening out, Rochester Limousine is who you want to choose. Whether you choose one of our outstanding party buses, or a luminous limousine, there's just no way you won't be impressed. Our fleet was rated the Best in Metro Detroit twice in a row, and our commitment to our passengers' safety and satisfaction is unrivaled. See for yourself by reaching out and learning more about how you can take one of our stunning vehicles for a spin for your next event!
If you are in the Metro Detroit area and are looking to reserve party bus or limo transportation for your next event, please book your transportation with us by contacting us today by calling 248.289.6665 or by filling out the request a quote form.