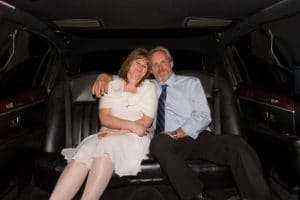 You and your spouse have enjoyed each other's company for years. Your anniversary is approaching, and you two have earned a night away from the house to enjoy yourselves. Maybe it's dinner, a show, or a full overnight getaway that you are looking forward to. No matter what you are planning for your anniversary, you should definitely consider hiring a Rochester limo to drive you around town. Nothing makes a night more special than a ride in a limousine.
Here are a few reasons that a Rochester limo is a great decision for your anniversary date.
Romantic Drive
Chances are that you were planning on driving downtown for whatever celebration you had planned for you and your spouse. Instead of taking on the driving yourself, why not hire a professional Rochester limo service to port you around town? With our limos, you are treated to a luxurious ride and are able to tour wherever you wish during your evening. Take your spouse for a moonlight tour in a limousine to show them that you want tonight to be special.
Safety
It's your anniversary, and you want to celebrate. That could mean through entertainment, or through an extravagant dinner. Regardless of the activity, champagne will more than likely be served during the course of the evening. Should you have a few drinks, the last thing you will want to do is drive the love of your life home. Risking both of your lives on a special evening is not worth it. Hire a Rochester limo service to take care of the driving for both of you. That way you'll be able to fully enjoy whatever the evening has to offer.
Avoid Parking Hassle
When you drive yourself to the ballet, opera, concert, or dinner, the number one issue will be finding a place to park. You and your spouse will be dressed up, and you won't be in any mood to walk anywhere – not in those heels, at least! When you hire a Rochester limo, you are choosing to completely avoid parking altogether. With the limo at your service, you will be able to be dropped off and picked up right at the front door.
Be Glamorous
A Rochester limo makes you feel as though you just arrived from a movie set. The sleek exterior is sure to turn heads wherever you go on your anniversary. With you and your spouse dressed up, people are sure to wonder just who is coming for dinner at the restaurant tonight. And why shouldn't they? It's your anniversary, and it's your time to show off that new suit or dress.
If your anniversary is fast approaching, then hire a Rochester limo! We would be happy to help set up the perfect anniversary package to make your night as special as you deserve so call Rochester Limousines a call today.