Metro Detroit Date Night: Rochester Edition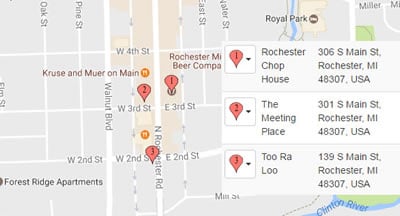 Making time to get out of the house and spend some quality time with that special someone in your life can be a great way to focus on what really matters while leaving all your troubles from the workweek at home. While finding the time to get out and enjoy the evening can be tough, it will certainly be worth it. Once you have picked the perfect time to head out, the next step is to choose what to do!
If you want to explore one of Metro Detroit's most charming suburbs, head to downtown Rochester for a great experience right in your back yard. With countless great options, you certainly won't have trouble finding the perfect place to spend your evening. If you are worried about getting around town for your date night, look no further than a limousine or luxury sedan rental from a professional Metro Detroit limousine rental company complete with a chauffeur. By not having to worry about getting around town for the night, you can focus on enjoying your quality time together. Here are a few great places in downtown Rochester to get you started. 
Rochester Chop House
For a classic dining experience, the Rochester Chop House would make a great choice. Perfect for any seafood lover and wine connoisseur, the Rochester Chop House's menu surely won't disappoint. With a limousine bringing you right to the door, you can begin to relax as soon as you step into the back of your car for the night. Your professional chauffeur will take care of all of the hassle so you can focus on enjoying the evening.
The Meeting House
This modern up scale American restaurant would also make a great place for your special evening together, especially if you are looking for a menu with lots of variety. Located right in downtown Rochester, The Meeting House is also a great place to begin your night on the town if you wanted to make a few stops. With your chauffeur waiting to bring you anywhere you want to go for the evening, you have the freedom to move around the city as you see fit.
Too Ra Loo
Who said pizza didn't make a great date night? If you are in the mood for some pizza and want to get out of the house and out on the town, Too Ra Loo may fit the bill just right. With a more casual setting and an extensive beer list, this would make a great spot for a Friday night out of the house. With your driver waiting right outside, you have the freedom to head back home whenever you have had enough.
To Receive a FREE Limo or Party Bus Rental Quote for Your Next Date Night in Rochester, MI
Heading out into downtown Rochester couldn't get any easier when you have your own limousine service or party bus rental for the evening. To learn more about how to get your own for your next date night, visit www.rochesterlimos.com today!  Metro Detroit's Choice for Limo Rentals.