Prom Limo Service Near You!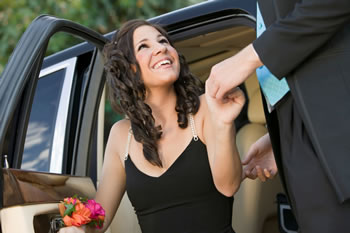 With the end of the school year coming to an end, there are many things in the near future to look forward to. With a summer full of celebrations and an exciting fall full of new beginnings coming up, there's plenty to look forward to within the next few months. However, before summer, there's another event you're surely excited about: Prom!
If there's one event that graduating seniors look forward to most before they walk across the stage, it's senior prom. And if you're a junior, then this is your first prom and a very special experience! Prom is one of the few nights in your life where you can get all dressed up with your closest friends to dance the night away. To help make sure your prom night goes as smoothly as possible, it's smart to do some planning ahead of time. You wouldn't wait until the night before to pick out your dress or tuxedo, would you? We didn't think so. Similarly, you don't want to leave your transportation plans until the last minute either. By booking your prom night limo ahead of time, you'll guarantee yourself an amazing evening with the following benefits.
A Luxurious Ride to the Venue
With a luxury prom limo rented out for the night, you'll get to enjoy the ride to prom while everyone is still all in the same place excited for the night's events. With limousine options for groups of all sizes, you'll be able to get the perfect ride for you and your entire group. You'll enjoy the comfort of luxurious leather seats and a premium sound system to make sure you have the chance to get into the party mood before you arrive. Just make sure to bring your playlist!
Freedom and Flexibility for the Night
When you make your arrangements for your prom limo, make sure to plan in any extra time if you and your group want to all do something together before or after prom. For instance, if you want to have a group dinner before heading to the dance, your limo driver will be happy to chauffeur you to the restaurant and be there afterwards to whisk you away to the prom venue.
A Reliable Ride Home
The last thing any prom attendee wants to have to do is call their parents for a ride home once the dance is over. When you have a limousine or party bus reserved for the duration of the evening, you will be sure to have your luxurious ride waiting for you right outside the venue to bring you back to the drop off point when the night comes to an end.
For a FREE Quote on Prom Limo Service in Metro Detroit Choose Detroit's Choice for Prom Limos
To learn more about booking a prom limousine service or to get a free quote for a prom limo rental, contact Rochester Limos — Detroit's Choice for Prom Limo Service.