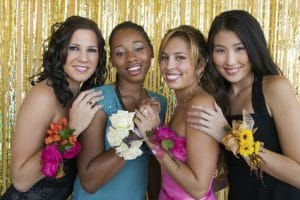 The end of your senior year is in sight, which means that prom is just around the corner. High school students get the special opportunity to dress up in fancy dresses and suits and spend a wonderful evening with their friends. They want this evening to be amazing, and what better way to create a memorable night than with a Washington Township limo? We have a variety of elegant vehicles to choose from to help make any prom goers evening amazing—from the pictures at home to the ride there and back home again.
Keep reading to learn more about our Washington Township limo offerings that can accommodate prom groups of all sizes:
Stretch Suburban Limo
Having enough space for all the fancy gowns can be a hassle for some vehicles. But with our stretch Suburban limo, you won't have to worry about anyone being too cramped. The Suburban is large enough to comfortably seat 16-20 people and features two bar sets: one at the front and one at the back. With this limo, the kids will have plenty of room to move around and take pictures with their friends as they await their entrance to their Washington Township prom.
Party Buses
If your group of friends extends past 20 people, you will definitely want to look into renting a party bus which can seat between 14 and 32 guests of honor. Our party buses are equipped with posh lighting that can be controlled by a switch. Prom goers can easily stand up and get to our two to four sets of bars, depending on the vehicle size. No matter how many people are coming, a party bus will be more than able to take the group to and from the prom.
Why Rent a Limo or Party Bus for Prom?
1. Firstly, our limos are very safe. Our drivers are extremely professional and know the Metro Detroit area like the back of their hand. Your child's safety is their main concern.
2. Secondly, renting a Washington Township limo or party bus means that prom lasts much longer than just the dance. Our limos can be rented by the hour, so they can take your children to prom, wait for the night to end, and take everyone back to where their cars are.
3. Thirdly, the kids are receiving a luxury ride to what could be the biggest night of their high school career. Every parent and high school student wants this night to be a very special one, because everyone knows that you don't get too many of them in your life. A Washington Township limo or party bus is guaranteed to create lasting memories.
Call Rochester Limousine LLC. today!
With prom fast approaching, you will want to book your limo or party bus very soon. They're clean, they're roomy, and they're an elegant way to travel to the prom. If you call our office, we will be able to tailor your Washington Township limo experience to fit your needs perfectly. At Rochester Limousine, we are in the business of creating memories; for your senior prom, be sure to rent a limousine from us!