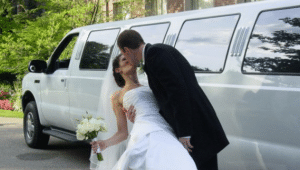 Weddings are magical times, and with summer nearly here, wedding season will be in full swing. If you are engaged to be wed this summer, congratulations! We all know how hectic the planning phase can be. Making sure everything is perfect can be nerve racking. Let us handle the transportation side of things by booking a Rochester wedding limo service to drive the happy couple to and from the wedding.
Here are a few reasons why you should leave the driving to a Rochester wedding limo service .
Handle Airport Pickup
No matter the size of the guest list, there will be people coming in from out of town to witness the big day. Having a reliable person to take care of the airport pickup and drop-off will allow you to stay focused on the more intricate planning details of the wedding itself. A Rochester wedding limo service will happily collect relatives from the airport and deliver them to wherever they need to be: their hotel, the ceremony, and even back to the airport once everything has wrapped up.
Wedding Party Transportation
Having everyone arrive as one unit makes things go much smoother at weddings. This is especially true for the bridal party and groomsmen. Making sure that everyone arrives together is something that we would be happy to take care of. With our party busses and stretch limos, we are able to accommodate most any size of wedding party. From 8-person to 32-person party busses, we will certainly have whatever is needed to make the party transportation run smoothly.
Bride and Groom Getaway Vehicle
Once all is said and done at the ceremony, the bride and groom will need some kind of vehicle to take them away. Allow a Rochester wedding limo service to provide that service. The bride and groom will be treated to a roomy limousine and champagne to enjoy. Instead of cramming into a private vehicle, allow the new happy couple to stretch out their legs and enjoy their special day in a luxury limousine.
Honeymoon Airport Delivery
Well after the reception has completed, the honeymoon will take place. Wherever the couple decides to go – whether it's Aruba, Jamaica, or even Europe – make sure that they arrive at the airport in style in a Rochester wedding limo service. Having someone be able to drop them off right at the terminal is forward thinking, as it saves them the hassle of leaving their vehicle at the airport. Even better yet is being picked up from their honeymoon in a limo. After a long trip away and an even longer flight, a luxurious limo journey is a great way to be taken back to their new home.
If you are in need of a Rochester wedding limo service for an upcoming wedding, don't hesitate to call. Rochester Limousines offers various wedding packages that can be tailored to meet whatever your needs may be. Call now for a quote!