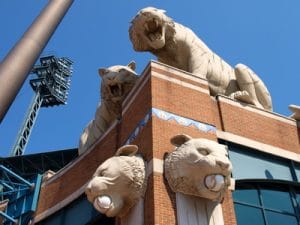 Summer is well within reach and with the warmer weather comes America's pastime. Baseball has returned to Comerica Park and the Tigers are poised to improve on last year's season. With a few games already played the team looks good, and you won't want to miss Justin Verlander and Miguel Cabrera as they tear up the AL Central. So, why not hire a Rochester limo to get you there?
Here are a few reasons why you should hire a Rochester limo to head over to Comerica Park.
Travel with Ease
Getting to and from the stadium can be difficult when you drive yourself. You have to contend with the thousands of other vehicles on the road and if it's an early start you'll definitely have to worry about rush hour. Parking is never easy when you drive either. If you hire a Rochester limo, you get to bypass the parking situation and be dropped off right at the front doors. While traffic can still be an issue, you have the option to leave earlier and from any point of pickup, instead of having to head home and get your vehicle before game-time.
Travel in Style
Have you ever wanted to receive the same treatment as the players when they arrive at the stadium? Well, when you hire a Rochester limo you are able to experience that sensation. Turn heads of jealous fans as you and your friends step out of the limo right at the gate and in time to catch the anthem. Your friends will enjoy a comfortable ride to and from the stadium, and will be able to tune in to the pre-game show in the limo so you don't miss a beat. Getting to and from Comerica Park has never been simpler.
Travel Safely
Another feature in our Rochester limos is the bar, where you'll be able to enjoy a couple of drinks before entering the park. This is a great deal – not only do you get to enjoy cheaper refreshments, but you also don't have to worry about driving home. With the police keeping an eye out for impaired drivers, you won't want to be caught behind the wheel if you've had a few drinks. Leave the driving to us. We'll happily pick you up from wherever you need, and safely drop you off when your evening is over.
If you are itching to get to the ballpark to see the Tigers early in the season, then consider hiring a Rochester limo to take care of the driving. You and your friends can travel in style and comfort while not having to worry about traffic, parking, or driving home afterwards. Call Rochester Limousines today to book your luxury Tigers experience. If you book multiple games, you will receive a discount. Don't hesitate – call today!