The Most Fun (And Safest) Detroit Bachelorette Party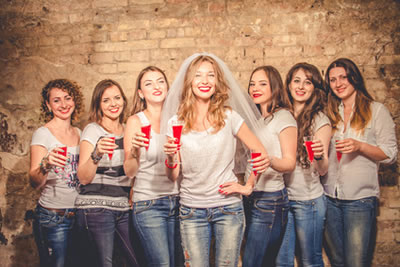 The city of Detroit has something for everyone. For those looking for a live sporting event, the new Little Caesar's Arena will be glad to welcome you. If you are looking for a great concert, the choices are endless. Just want a bite to eat or somewhere to enjoy a delicious cocktail? Plenty of choices there, too. For those looking to celebrate a bachelorette party in downtown Detroit, you are in luck! Detroit is one of the best cities to have a bachelorette party in because everything is so accessible!
To best take advantage of all Detroit has to offer, you need to be able to get around quickly and on your own terms! By having your own limousine or party bus for the night, you will be able to move around the city as you like and make the best of every moment. While having a party bus may not be your typical Friday night, it certainly should be at the top of your list when planning a bachelorette party! By having a party bus for your upcoming bachelorette party, you can count on enjoying the following benefits!
Flexibility on the Go
With your own party bus, you are in charge of the party! While you will have a professional driver showing you around town for the night, you and your group will be the ones who decide where you are headed, and when. With you in charge, you can completely customize the way you and your group experience Detroit for the night. Want to have dinner and a show? No problem. Want to see the afternoon showing then get dinner after? That works too. Once the night comes and you're ready to hit the town, you'll be able to explore the hottest bars and clubs in all of Detroit's fantastic neighborhoods. And, you'll never have to worry about parking or sitting in traffic behind the wheel losing party precious time.
No Need to Split Up
With plenty of options, you can choose just the right size party bus for you and your group. With room for everyone on-board, there won't be any reason your group will need to split up as you make your way from place to place! By keeping the party together, even in transit, you can make the most of your time together and all experience the city at once.
Safety and Convenience
By having your own professionally chauffeured party bus for your bachelorette party, you will get all the convenience benefits of having your own personal chauffeur for the night, while also enjoying the safety benefits that come along with it, too. You can rest assured you won't find yourself being dropped off in areas you don't feel comfortable in or having to walk around unknown areas looking for where your bus is parked. With a clear pickup and drop off point for every destination, you can be confident you will know exactly how to find your driver when you are ready to move on for the night! And no one in your party will get behind the wheel after having a few drinks.
Searching for the Best Detroit Party Bus & Limo Service for Your Bachelorette Party?
Not only does having a party bus make a lot of sense, but it'll also help you make an unforgettable bachelorette party! If you're ready to book a party bus for your upcoming bachelorette party in Detroit, contact Rochester Limousine today! We are Detroit's Best Choice for Bachelorette Party limo and party bus service.