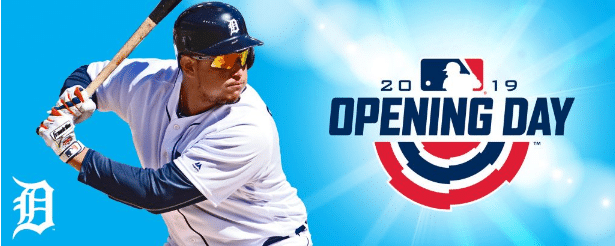 Spring of 2019 is finally coming up, and that means it's nearly time for yet another amazing Opening Day at Comerica Park! This year, on April 4th, our beloved Detroit Tigers will once again face off against the Kansas City Royals– only this time it will be in an epic showdown (hopefully ending in a win) that sets the pace for this whole upcoming season! However, before you start assembling all your Detroit Tigers gear and commencing your pre-game rituals just yet, we urge you to take a moment and consider your game day transportation for such an anticipated event. With this past winter being as bad as it has been, we all deserve to go big this spring and come in strong, and more importantly, our spectacular Detroit Tigers deserve fans that truly have their heads in the game. If you agree, you'll love our party buses at Rochester Limousine.
Built for supremacy, our party buses are guaranteed to ensure you enjoy an unforgettable Opening Day. Whether you have tickets to the Detroit Tigers game already, and want to make sure you show up in style, or you prefer to spend the entire time watching the game as you bar hop across the city with the thousands of other amazing Michiganders celebrating this momentous occasion, our party buses are simply too perfect for you to pass up. Equipped with multiple flat screen televisions, epic sound systems, amazing party lighting, luxurious wrap-around seating, and so much more, our party buses are the ultimate means of transportation for you, and your up to 44 guests, to really show the Detroit Tigers some love on Opening Day. From simple trips to and from the game, to extraordinary voyages, including awesome after-parties and exclusive events, our party buses put you in charge of all your Opening Day adventures!
We're confident you haven't experienced a Detroit Tigers Opening Day until you've experienced an Opening Day with a party bus from Rochester Limousine at your command. If you want to celebrate this year's Detroit Tigers Opening Day the best way you possibly can, and make incredible memories you'll carry with you the rest of your life, reserve one of our party bus rentals at Rochester Limousine, today. After all, you may not think a party bus can have a lasting impact on your life, but we're pretty confident so long as you trust us this year with be your best Detroit Tigers Opening Day yet! If you are in the Metro Detroit area and are looking for reserving a limo or party bus for Detroit Tigers Opening Day, please book your transportation with us by contacting us today by calling 248.289.6665 or by filling out the request a quote form.