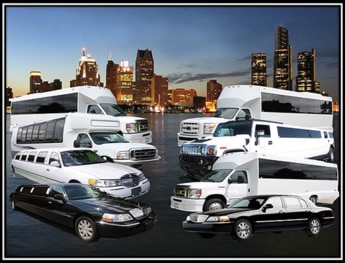 If you're planning a wedding, bachelor or bachelorette party, or any other exciting event in Detroit that involves a group of people, you're probably considering renting a limo or party bus. Both have many benefits when renting for an event; They can ensure everyone riding is safe, no one has to worry about driving home after celebrating, and you can bypass frustrating traffic and parking. But limos and party buses are not exactly the same, and offer different features, so how do you know which one is better for your particular event?
Party Bus Vs. Limo: Which is Better For Your Detroit Event?
Limos
Limousines are typically catered to suit more formal events, such as weddings and romantic nights out. They may differ in price from a party bus, depending on if they offer more or less extra features, but oftentimes the price is not the main difference. Limos are much shorter than a party bus, much like a regular sedan, but are much longer than a typical vehicle in length. There is also the option to rent a Hummer limo, which provides a different aesthetic and is larger. Limos can pick you up and drop you off at your event, and can include special music requests, flowers, food, and champagne to celebrate with your special someone, new spouse, or with a small group of family and friends. Limos are also great for shuttling a bridal party to the reception venue from the wedding ceremony, giving everyone convenient transportation and to give everyone some special celebratory time with one another.
Party Buses
Party buses offer slightly less formal transportation than a limo, and are better geared for bachelor and bachelorette parties, sweet sixteens, 21 birthday bashes, and more. Party buses are larger than a limo, and many come with a complete surround system to play music, special lights to add to the party mood, and even a dance pole to keep the partying going all night long. Party buses can hold more people than a traditional limo, and may cost more. However, you can save money with the more people you have join the party bus, since everyone can pool their money together and split the rental cost.
Reserve a Detroit Limousine or Party Bus for Your Next Night Out
Either way, whether you go with a limousine or a party bus, you can benefit from the style, luxury, and level of safety they provide. Limos and party buses are typically rented for special events when those over-age are likely to celebrate with alcoholic drinks, and a limo or party bus rental ensures that no one has to worry about being the designated driver, or driving home under the influence. Everyone can have fun and celebrate with their family and friends in a fun and safe manner. Depending on the type of event you're planning, the aesthetic you're going for, and how many people you'd like to include, a limo or party bus is the perfect addition to many special occasions. For more information or to request a quote for Detroit limo service, call: 248.289.6665