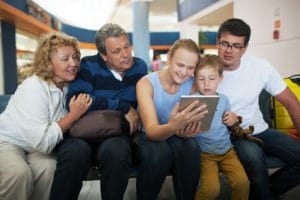 Summer is here and it's the time of year when relatives start visiting their nieces, nephews, and grandchildren. Summer in Detroit is much more fun than the winter time, and with numerous family events starting to pop up, it's no wonder that your relatives want to come for a visit. Whether you're planning a christening, a wedding, or a family reunion, you will want to make sure your relatives receive a happy welcome at the airport. So why not spring for something a little more glamorous than the family minivan? Book a Birmingham limo to pick your relatives up from the airport.
Comfortable
Long flights wreak havoc on happiness. The longer the flight, the grouchier people tend to be. When your relatives arrive at the airport after their flight, they may not be in the mood to take a dingy taxi to your home or rent a car. With a Birmingham limo rental, you are able to provide a town car that's perfect to pick up your relatives. Our town cars feature plush leather seating and lots of legroom, which will give your relatives plenty of space to stretch out. Make sure your in-laws and relatives arrive at their destination in a great mood with a comfortable Birmingham limo ride from the airport.
Professional
Taxis can be predictably unprofessional. The drivers can be in a bad mood and their demeanor can be a little sour. Finding a taxi driver with a clean vehicle is also rare. Unhappy taxi drivers can put a damper on any airport ride. By hiring a Birmingham limo for airport pickup you can guarantee a driver that keeps a clean car as well as a clean wardrobe. The driver will be in arrivals waiting for your relatives to escort them to their vehicle, rather than forcing your family to wait unpredictable lengths of time for a taxi or rental car. Our courteous drivers will treat your relatives very well during their trip to wherever they are staying.
Cost Effective
Some of our relatives aren't very good with direction. For that reason, they can have some difficulty getting around new cities. If you have company coming in from out of town and they have never been to Detroit before, you may want to invest in a Birmingham limo to pick them up from the airport. Taxi drivers have a bad habit of taking a longer route than needed to get people where they need to go. Most rental cars aren't equipped with GPS, which means map reading and more confusion, while the rentals that have GPS can get you even more lost. And if your family is coming into town for a wedding and you're the bride or groom, the last thing you want is to stress out about your family getting lost or being late for the rehearsal dinner or ceremony. Our professional drivers are able to expertly navigate Metro Detroit and reach your in-law's destination in no time, all for a flat rate plus tip. This beats paying the metered rate for a long and unwanted "sight seeing" trip in a taxi or rental car.
Birmingham Limo: Airport Pickup for Relatives
Treat your out-of-town relatives and save yourself stress by renting a Birmingham limo to pick them up from the airport and bring them to you safely and on time. Contact Rochester Limousine, LLC to take care of all of the details.