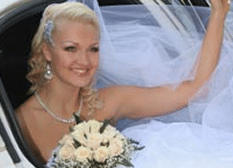 If you're getting married in the Metro Detroit area, you may be feeling overwhelmed at the sheer wealth of options. From venues to DJs, catering to cake, your options are virtually limitless, no matter what style of wedding you may want. For an easy decision for your wedding, consider a Metro Detroit wedding limousine service for your transportation. There are some great reasons why this is the best option.
For Your Bridal Party
Your bridal party is made up of your most favorite people in the world. They're standing beside you as you take your vows, signing the documents to make it official, and making sure you don't have a nervous breakdown on the days leading up the big day. You love them and they love you! Consider as all or part of your gift to them a ride in a luxurious wedding limousine to a day that will be remembered for a lifetime by all. Don't' make them drive around the city in between the ceremony and reception. Get everyone there on time and together with a Metro Detroit wedding limousine service.
You Can Have Fun!
A wedding limousine is a party on wheels. Have a celebration before the celebration with some champagne, music, lights, and maybe even some dancing! The interior of the wedding limousine will make for some great wedding party photos, with its beautiful interior and starlight ceiling. Some bridal parties even do a bit of bar-hopping in between! There's nothing wrong with a bit of bridal party bonding over booze while the rest of your family is making their way to the reception hall.
Privacy
With a Metro Detroit wedding limo service, you won't have the hassle of getting yourself somewhere. It's all taken care of for you, and you can sit back, relax, and enjoy a quiet moment with your bridal party. Some wedding limos offer separate areas for privacy, so you can have a moment alone with your newly betrothed. Or you can get a smaller wedding limo for just the two of you! This is an essential part of a wedding day; over the course of such a busy, event-filled day, you may realize that you've barely had a moment to talk to each other! Take some time after the ceremony to reflect with your partner and let the moment sink in. You're married now! Enjoy some champagne together and get a few cool photos taken while you're on your way to the celebration.
Amenities
Limousine wedding packages can come with some pretty sweet perks. You can get some champagne waiting for you in the car, decorations, and maybe even a red carpet rolled out for you as you enter the venue! Feel like royalty with the amenities of a fancy limousine. You'll also be able to play some music, enjoy some privacy, and relax – or party! – in the interior of the beautiful vehicle.
You've got a lot of decisions to make while planning your wedding. It can be fun, but it can also be overwhelming. Hiring a Metro Detroit limo service for your wedding is a no-brainer! And it makes it all the more easy on you on your big day.
5 Reasons You Need a Metro Detroit Limo Service For Your Wedding
If you are considering a hiring a wedding limo service, consider Rochester Limousine.  We have been a Metro Detroit Limo service for over 20 years!  Give us a call today at  248.289.6665.