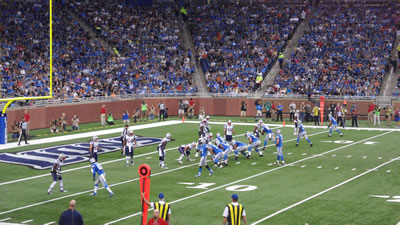 Watching your favorite sport team on television or at a bar is great. But there is nothing like taking in the sights and sounds of a live game. The atmosphere at the Joe Louis Arena or Ford Field is tough to replicate, and there's really nothing like going to a game in person. While you're hanging out with your friends trying to decide how you're going to get there, why not consider hiring a limo to Detroit for the journey?
Here are 4 reasons why renting a Detroit limo is a great idea:
Arrive in Comfort.
When you and your buddies are all huddled around the television, there is a certain level of comfort allowed. Although, driving to the stadium in a packed car or cab isn't much fun. When you choose to ride in a limo, you are treated to ample leg room and a great ride to whatever sporting event you're attending. An added bonus is that you'll be warm the entire time there and back, and won't have to wait outside for a cab or for the car to warm up.
Arrive in Style.
Imagine heading to a Red Wings game and getting the same looks that the actual players would get if they came through the door. That's the kind of experience you're in for if you take a limo to the game. Maybe you won't receive the same accolades, but you'll certainly turn some heads as you exit your luxurious ride to the arena.
Arrive When you Want.
The biggest hassle with getting to and from any major league sporting event is the commute. When should you leave? What's traffic like? Should I miss the last two minutes so I can get my car out of the lot in decent time? These are all questions that are simply answered when you hire a Detroit limo as your ride. No matter the traffic, you'll be able to cruise to the front doors. This saves you the time spent parking and saves you from remembering where exactly you parked. Not only that, you'll be able to tailgate at your house for as long as you like beforehand and be picked up well in advance of tip off, puck drop, or kickoff.
Arrive Alive.
Having a few drinks during a game is very common, and enjoying a pregame beverage is not out of the ordinary either. However, with the holiday season fast approaching, you would be wise to have a sober driver to get you to and from the game. Hiring a limo allows you to enjoy the pregame tailgating party at your place or at a friend's while resting easy that no one will have to drive. It's not worth getting pulled over just to see your favorite team play. Hire a limo and avoid getting a ticket.
You can ensure everyone's safety, sanity, and happiness when you rent a Detroit limo to transport you and your friends to and from the game this sporting season.
Take A Detroit Limo To The Game
Give Rochester Limousine a call today to rent a Detroit limo to Ford Field or Joe Louis Arena.  We have been providing Detroit limo rental service to Detroit Red Wings and Detroit Lions for over 20 years.