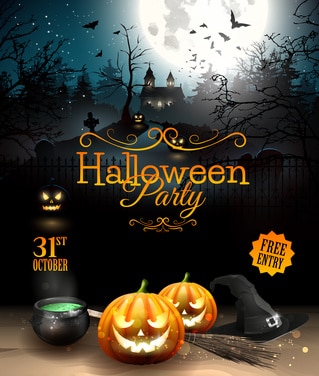 Halloween is fast approaching, and chances are you have your costume ready to go and some form of plan in place. If you plan on heading to downtown Detroit this Halloween, you are no doubt planning to celebrate with a cocktail or two. As you prepare your evening, you should strongly consider renting a Detroit limousine service to shuttle you and your friends from venue to venue.
Here are 4 reasons why hiring a Detroit limo service is a scary good idea:
How many times have you come in second place in a costume contest? Most of them? It's truly unfair that your costume that you spent so much time on, and look fabulous in, comes just short of winning that particular venue's prize. Fortunately for you, there could be a stretch limo outside waiting for you and your friends to move along to the next place. Even if luck doesn't go your way in the costume contests, your status at each party will be legendary if you arrive and leave in a limo.
Comfortable. If you've gone out to the bar for Halloween before, you know that most costumes don't usually include a jacket. If they do, that person is usually sweating profusely the entire time they're inside. For that reason, the less extra clothes you bring the better the time you'll have. This is a great reason to rent a Detroit limo service for your Halloween travels. You and your friends will be able to get in and out of a heated vehicle, all while leaving valuables in the safety of the driver.
Simple. As you tour through downtown Detroit in your limo, you'll see masses of costumed people walking up and down the street heading to whatever venue they have chosen for the evening. Parking downtown can be even scarier than the costumes sometimes, so hiring a limousine to pick you up and drop you off right at the front door is a great way to spend less time looking for parking and walking, and more time enjoying yourself with your friends.
The most important reason to rent a Detroit limo service this Halloween is the safety that the service provides. There is a high probability you will be enjoying an adult beverage from one or more bars you're going to that night. Chances are also high that if you choose to drive there and back home, you run the risk of being pulled over, losing your license, and threatening your well-being. There's no reason to risk your life for one night of fun. Besides, it's your night to look cool and let loose. Why risk it by drinking and driving? Rent a Detroit limo service and have the driver pick you up and drop you off at the end of the night. That way, you and your friends will all stay safe this Halloween.
Halloween isn't just about going a little crazy for one night; It is also about staying safe with your friends. One great way to combine fun with safety is to rent a Detroit limo service to act as your freakishly fabulous transportation.
Rent a Detroit Limo Rental Service
Give Rochester Limousine a call today to reserve your limo for Halloween in Metro Detroit.  We have been providing Detroit limo rental service for over 20 years.