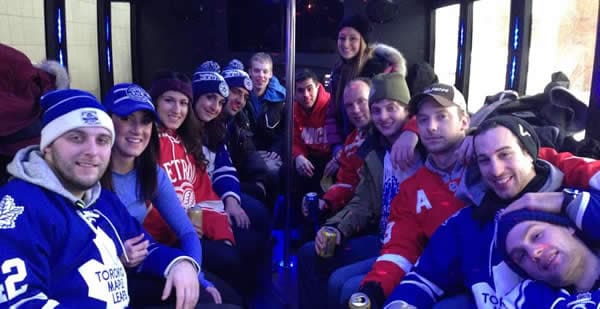 You cheer for them at home, and you cheer them on at the local pub. But nothing is quite as exciting as being in the stands for when the Red Wings are playing at the Joe Louis Arena. Getting tickets to the game is a privilege in its own right, and you deserve to attend the game in style.
So why drive to the arena on your own when you could just as easily hire a Detroit limo service to pick up you and your friends and family?
Here are 3 reasons why you should consider renting a limo for some of Detroit's upcoming home games.
Very Posh
If you have ever driven to a Red Wings game before, you know that it's not a very glamorous journey to and from the arena. Arriving in the minivan doesn't quite have the same effect as getting to the game in a limousine. With a limo, you're treated as if you were one of the players. You and your friends will be treated to a very stylish ride to the game and will most definitely turn some heads at the front gate. Having this luxury is well worth the price of admission.
Very Safe
For many Red Wings fans, a few beverages before the game are a natural occurrence. Your friends get together for a little pre-game celebration before heading down to the arena. Well, especially around this time of year, the police are really looking out for drivers under the influence. This has serious consequences if you are caught with alcohol on your breath. Instead of risking your license and life on seeing Jack Eichel and the Buffalo Sabres in January, why not hire a Detroit limo service to safely drive you to and from the game? That way, you'll be able to enjoy a few drinks with the boys and not have to worry about getting a DUI.
Very Simple
Getting to the Joe Louis Arena can be a little troublesome sometimes. Traffic is usually pretty hectic downtown, and finding parking can be even more difficult. Add a cold Michigan day to your commute and your trip to the rink to see the Ducks and Red Wings square off in late January will be less than ideal. If you hire a limo to drive you to the game, you are nixing all of issues surrounding driving downtown. The limo will pick you up on your doorstep and will drop you off right in front of the arena. Once the game is over, climb back in and continue to wherever it is you need to be. The warm limo will be there to shuttle you – it's as simple as that.
Rent a Detroit Limousine for Red Wings Home Games
Having a Detroit limousine take you to a Red Wings game is a great idea if you are tired of the commute or want to avoid unnecessary tickets. If you are interested in booking a limo for a home game in the future, be sure to book your ride as far in advance as possible.
Contact Rochester Limousine today and speak with one of our transportation specialists at: 248.289.6665