Party Bus Rental Campbells Corner MI
Are you looking for a party bus rental Campbells Corner MI?
Maybe in the past party bus rentals were only for the elite, but right now at Rochester Limousine, our party bus rentals are for everyone! In fact, whether you are celebrating a special sweet sixteen or getting a group of friends together to enjoy an evening filled with some of Michigan's best upscale entertainment, a party bus rental is just what you need to secure a fabulous time for you and up to 44 other passengers. At Rochester Limousine, our party bus rentals are built to impress, with countless features and amenities to ensure the safety and entertainment of all passengers onboard, including sound systems, televisions, and more. Our incredible vehicles even have their own private bars! When it comes to reliability and comfort, you just won't find better party bus rentals anywhere else. There's a reason our fleet of party bus rentals at Rochester Limousine was voted the best in Metro Detroit for two years – come discover why for yourself today!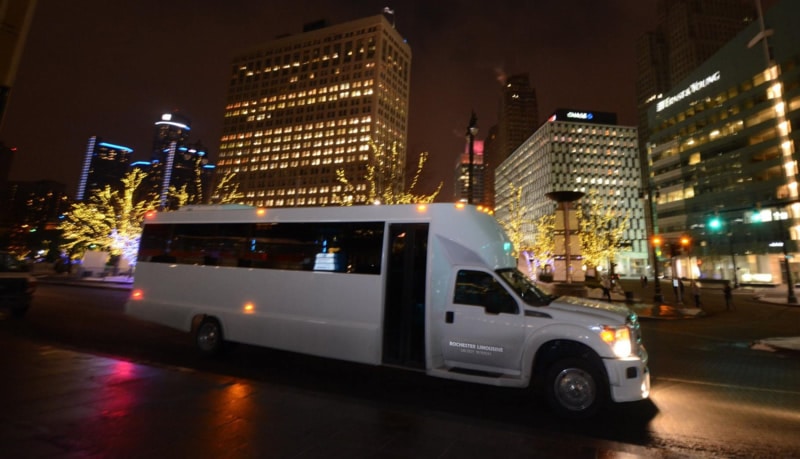 Party Bus Rental Campbells Corner MI
With more than 20 years of experience, Rochester Limousine is excited to help you enjoy "A Night To Remember" by offering you access to the most luxuriously affordable party bus rentals in Campbells Corner, MI. Campbells Corner is a very small community in Oakland County that, although does not have many major attractions of its own, is very close to several other larger cities and vibrant towns that do have quite a lot to offer. Only about 30 miles from Detroit, Campbells Corner is near plenty of entertainment in Rochester, Auburn Hills, Rochester Hills, Troy, Pontiac, and more. Campbells Corner is also very close to Lake Orion, Romeo, Stony Creek, and several other smaller yet vibrant communities. Plus, with Anchor Bay and Lake St. Clair to the east, and plenty of lakes and parks to take advantage of in every other direction, Campbells Corner is a great place to live if you want access to incredible recreation all year long. The Indian Spring Metropark and the Stony Creek Metropark are just two Campbells Corner favorites! Of course, if you are looking to get out of Campbells Corner for a while, you should go all out and book one of our elegant party bus rentals. At Rochester Limousine, we always welcomes residents of Campbells Corner and everywhere else in Metro Detroit to come take advantage of our incredible fleet of luxury vehicles because we believe everyone deserves a little luxury in life!
If you are in the Campbells Corner area and are looking for a party bus rental Campbells Corner MI, please contact us today by calling 248.289.6665 or by filling out the form below: