Party Bus Rental Rochester MI
Are you looking for a party bus rental Rochester MI?
From winery tours to tailgating parties in the parking lot of your favorite stadium, Rochester Limousine has got all the party bus rentals you need to elevate your afternoon or evening and impress those closest to you. With large party bus rentals for groups of up to 45 people and small party bus rentals for more intimate encounters, Rochester Limousine can help you find the right luxury vehicle to meet your needs without exceeding your budget. Whether you want to surprise your best friend with a party bus rental for his/her birthday or celebrate a momentous occasion, Rochester Limousine can help you make your special occasion even more magical than you ever dreamed it could be. For on the road entertainment, our party bus rentals at Rochester Limousine come equipped with a variety of technologies including televisions and sound systems to keep you amused as well as full-service bars to quench your every thirst. Put your trust in the luxury party bus rental company that has been recognized for its excellence multiple times, put your trust in Rochester Limousine.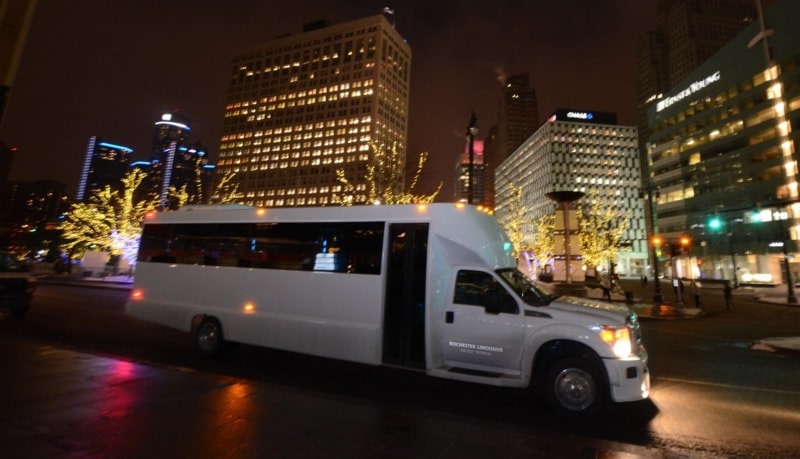 Party Bus Rental Rochester MI
With more than 20 years of experience, Rochester Limousine is excited to help you enjoy "A Night To Remember" by offering you access to the most luxuriously affordable party bus rentals in Rochester, MI. Comprised of several smaller neighborhoods including Stony Creek, The Bluffs, and Yates, the Oakland County city of Rochester sits on the northern side of the Metro Detroit area and protects the interest of more than 12,000 Michiganders. From the vibrant downtown shopping district to the abundance of recreational opportunities nearby, Rochester offers a wide variety of things to do and activities to take advantage of. Whether you want to take a long walk on the Paint Creek and Clinton River Trails or channel your inner artist at the Paint Creek Center for the Arts, you can always find a great way to spend an afternoon in Rochester. With a number of famous people from Rochester including Madonna, it's easy to see why it remains such a popular place to live, work, and play. Of course to really take advantage of all your playtime in southeastern Michigan, you have to get your hands on a party bus rental from Rochester Limousine. Only Rochester Limousine offers the party bus rentals you deserve, so what's stopping you from giving us a call today? From big events to spontaneous trips, Rochester Limousine has your back no matter where you want to go.
If you are in the Rochester area and are looking for a party bus rental Rochester MI, please contact us today by calling 248.289.6665 or by filling out the form below: