Party Bus Rental Rochester Hills MI
Are you looking for a party bus rental Rochester Hills MI?
Are you or a loved one celebrating a special birthday this year, like 13, 16, 21, 50, or even 100? If so, our remarkable transportation professionals want to encourage you to consider elevating your special event by allowing Rochester Limousine to handle all your transportation accommodations with an affordable luxury party bus rental. With our largest party bus rental capable of comfortably containing as many as 45 passengers, you can ensure that everyone who is most important to the birthday boy/girl can be there to join in on the fun. Whether you simply need transport to get from point A to point B, or you want to make the journey part of the adventure, Rochester Limousine can do both with party bus rentals designed to impress. Enjoy on the road entertainment thanks to on-board televisions, sound systems, bars, and even a hardwood dance floor. Our incredible party bus rentals truly are one-of-a-kind, so what are you waiting for? Let Rochester Limousine help you get where you need to go in style today.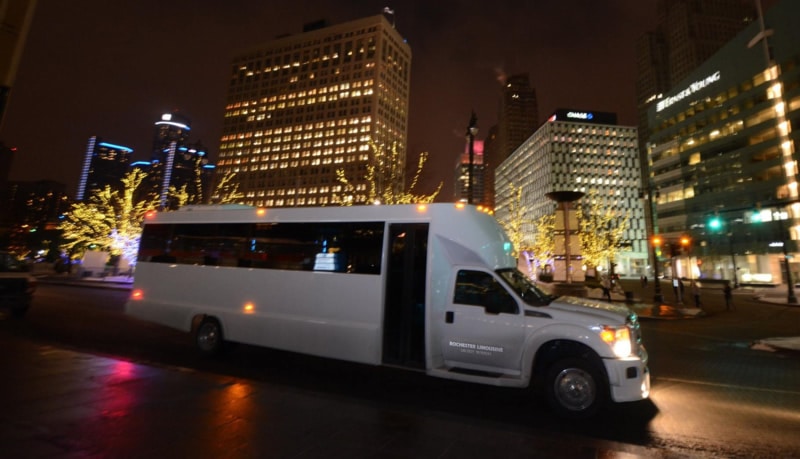 Party Bus Rental Rochester Hills MI
With more than 20 years of experience, Rochester Limousine is excited to help you enjoy "A Night To Remember" by offering you access to the most luxuriously affordable party bus rentals in Rochester Hills, MI. With over 70,000 residents and countless tourists visiting throughout the year, the Oakland County city of Rochester Hills is made up of the communities Yates and Stoney Creek, and offers an abundance of exciting attractions and opportunities to take advantage of.  From historical and educational sites, like the Yates Cider Mill, and the Rochester Hills Museum at Van Hoosen Farm, to the plethora of theaters, golf courses, farmers markets, bars, and more; you can really see that variety in entertainment and recreation is important to the people of Rochester Hills. Whether you enjoy sports, like tennis, skiing, cycling, swimming, fishing, and boating or are just looking for a calm and peaceful place to enjoy Michigan's beautiful scenery, Rochester Hills has something just for you. To get a chance to taste all of Rochester Hills' most deliciously bold flavors, make sure you visit local favorites like The Silver Spoon, Kruse and Muer, The Clubhouse BFD, and many more. You won't want to miss out on any action in Rochester Hills, just like you won't want to miss out on the incredible deals on party bus rentals happening now only at Rochester Hills,. Contact our experts at Rochester Hills, to learn more or to reserve your party bus rental today.
If you are in the Rochester Hills area and are looking for a party bus rental Rochester Hills MI, please contact us today by calling 248.289.6665 or by filling out the form below: