Party Bus Rental Troy MI
Are you looking for a party bus rental Troy MI?
If you're in charge of the transportation for any upcoming big events, why not take the opportunity to impress your friends and loved ones by letting Rochester Limousine hook you up with a state-of-the-art party bus rental. Whether you're celebrating a special birthday, by going to a popular concert or getting together with the boys for the most important game of the season, Rochester Limousine can help get you there on time and in style with a party bus rental. Get pumped for the game by watching all the pre-game action from the road on a massive flat screen TV or pre-game for the concert with your friends by grabbing a few drinks from the full-service bar, hitting the hardwood dance floor, and jamming out to your favorite songs in one of our luxury party bus rentals. You can effectively elevate the entire evening for you and your (up to) 44 guests (for a total of 45 passengers) by reserving a party bus rental today. Only the professionals at Rochester Limousine can help you select the party bus rental that is perfect for you, so don't wait any long to reach out.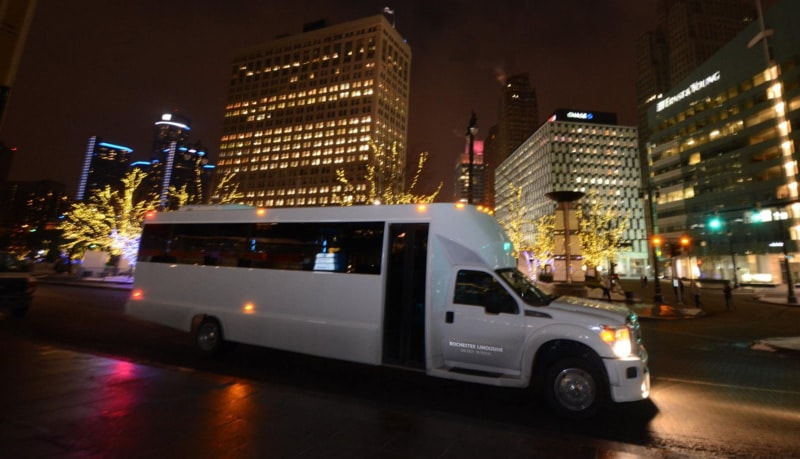 Party Bus Rental Troy MI
With more than 20 years of experience, Rochester Limousine is excited to help you enjoy "A Night To Remember" by offering you access to the most luxuriously affordable party bus rentals in Troy, MI. Rated one of the safest cities in the entire nation, the suburban city of Troy in Oakland County is able to provide its more than 80,000 residents with exceptional daytime and nightlife entertainment and recreation without compromising its communal security, natural beauty, and rustic charm. Worthy of the numerous recognitions for excellence it has received over the years, the city of Troy offers unbeatable professional opportunities in its thriving business district as well as upscale shopping thanks to the abundance of unique shops and boutiques. From the numerous locally famous places of interest such as the Somerset Collection, Stage Nature Center, Troy Museum & Historic Village, and The Bhartiya Temple always within reach to the incredible selection of restaurants like The Capital Grille, Ocean Prime, Bonefish Grill, and Mon Jin Lau Restaurant always serving up amazing cuisine, you are guaranteed to fall in love with the city of Troy. Comparably, you are sure to fall in love with our vast selection of incredible party bus rentals at Rochester Limousine if you just give us a try. Put your trust in the party bus rental experts who have already earned recognition as the best in the business; put your trust in Rochester Limousine.
If you are in the Troy area and are looking for a party bus rental Troy MI, please contact us today by calling 248.289.6665 or by filling out the form below: