Party Bus Rental Lake Orion MI
Are you looking for a party bus rental Lake Orion MI?
When you're hungry you go and find something to eat, when you're thirsty you grab some water, but when you want to travel in style you absolutely must put your trust in the party bus rental experts at Rochester Limousine. Only Rochester Limousine offers such an incredible selection of clean, reliable, and comfortable party bus rentals in a variety of sizes to meet your needs for any special occasion or ordinary event. Whether you are traveling in a small group or have as many as 44 guests (for a total of 45 passengers) tagging along, you all will be able to relax and watch TV, listen to music, dance, grab a drink, and more on your way to wherever you all need to be thanks to our impressively well-equipped party bus rentals. Our party bus rentals at Rochester Limousine will make you feel like a VIP and can make even the longest and dullest traffic jams feel more a party in your own personal road lounge, so what are you waiting for?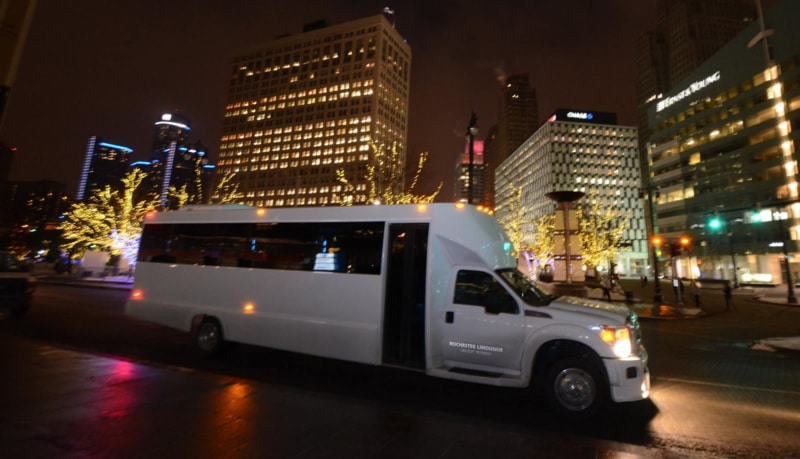 Party Bus Rental Lake Orion MI
With more than 20 years of experience, Rochester Limousine is excited to help you enjoy "A Night To Remember" by offering you access to the most luxuriously affordable party bus rentals in Lake Orion, MI. In order to find the town "Where Living is a Vacation," you must look within Orion Township at the small yet charming bedroom community of Lake Orion. With nearly 3,000 residents and a long history as a popular resort community, the village of Lake Orion offers residents access to a diverse selection of affordable homes, a historic downtown filled with all kinds of unique shops, a remarkable school district, and so much more. Whether you are looking for a unique tour that will help you delve deeper into your passion for history, a place like Canterbury Village to help you choose a special gift for someone you care about, or even just a chance to get out and get lost in the Bald Mountain State Recreation Area, Lake Orion has it all. From spas, bars, and clubs to antique boutiques, natural beauty, and mouthwatering cuisine, Lake Orion is making an impact as an excellent place to live, work, and play. However, when it comes to excellence in luxury transportation, you won't find anything better than the party bus rental at Rochester Limousine. Contact the luxury party bus rental professionals at Rochester Limousine today to learn more about how our party bus rentals and transportation services earned recognition as the best in the business two years in a row.
If you are in the Lake Orion area and are looking for a party bus rental Lake Orion MI, please contact us today by calling 248.289.6665 or by filling out the form below: