Limousine Service Lathrup Village MI
Are you looking for limousine service Lathrup Village MI?
Our seasoned transportation experts at Rochester Limousine could give you countless reasons as to why we know you'll love our outstanding limousine service. We could tell you our limousine service is the most reliable, safe, comfortable means of transportation in the city. We could tell you all about how our limousine service offers the newest and hottest vehicles equipped with all the latest and greatest entertainment amenities, including built-in televisions, professional grade sound systems, nightclub inspired lighting, spacious cabins with luxurious seating, onboard bars, and more. We could even tell you that our limousine service is designed to accommodate any size group going absolutely anywhere – all of which are true. However, no matter what we say, you're always going to wonder if there's something better out there. That's why we don't just want you to take our word for it. We want you to come experience our superior services for yourself because ours was name the "Best Limousine Service in Metro Detroit" twice in a row by people just like you. In fact, all you have to do is decide which of our incredible limousines is right for you, which we can help you with, and let us know were in limousine we can pick you and your guests up. It doesn't matter if you're going to a wedding, or a concert; if you're in need of a spacious 20-seater Suburban Stretch limo for a large group, or a smaller 9 or 12-seater Chrysler 300 limousine model for a more intimate occasion – our limousine service at Rochester Limousine is sure to have everything you need to experience the best, most unforgettable night of your life.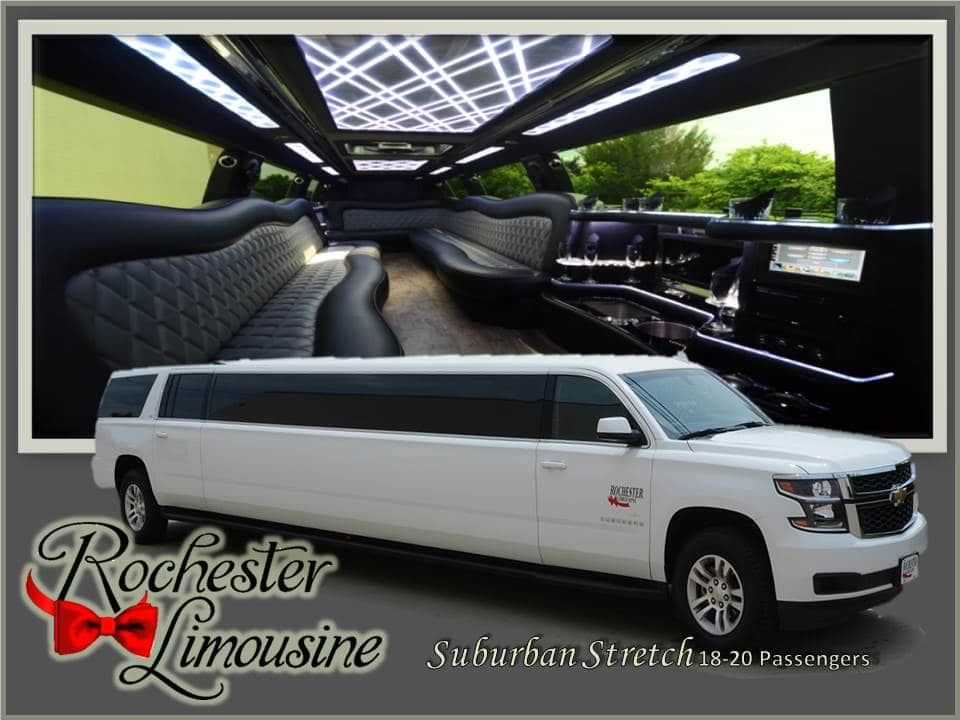 Limousine Service Lathrup Village MI
With more than 20 years of experience, Rochester Limousine is excited to help you enjoy "A Night To Remember" by offering you access to the most luxurious limousine services in Lathrup Village, MI. Lathrup Village has always bee a remarkably vibrant little community in Oakland County. It's just north of the city of Southfield, which means residents of Lathrup Village have limitless access to the Southfield Town Center, plenty of great restaurants, the area's fantastic infrastructure, and more. Plus, despite being so close to a larger city, Lathrup Village manages to maintain its relaxed suburban vibe. Top all that off with the fact that Lathrup Village is close to countless amazing attractions surrounding Royal Oak, Ferndale, Berkley, and more, and it's easy to see why so many people love this incredible community. However, getting from Lathrup Village to all the amazing places throughout the area can often times make the journey feel more like a hassle than an adventure. That's why, the next time you and your friends/loved ones from Lathrup Village decide to skip town, we urge you to get in touch with our talented transportation experts at Rochester Limousine instead and see if our limousine service can put your evening out over the top!
If you are in the Lathrup Village area and are looking for limousine service Lathrup Village MI, please contact us today by calling 248.289.6665 or by filling out the form below: