Party Bus Rental Four Towns MI
Are you looking for a party bus rental Four Towns MI?
Did you know that turning your special occasion or night out on the town from dreadfully ordinary to absolutely extraordinary is as easy as reserving one of our glorious party bus rentals at Rochester Limousine? It's true! Designed for total comfort, with countless onboard amenities to facilitate the ultimate positive experience, and enough space to accommodate as many as 45 passengers at a time, our party bus rentals were simply built for excellence. In fact, with claim over Metro Detroit's newest and hottest fleet of party bus rentals, which has earned us recognition as the best twice in a row, we're confident that you won't find a party bus rental better than ours! Our party bus rentals are perfect for any and every occasion including weddings, birthdays, anniversaries, family reunions, concerts, tailgating parties, and more – so what are you waiting for? Put your faith in our experts here at Rochester Limousine, and turn your next adventure into a one-of-a-kind experience you'll never forget!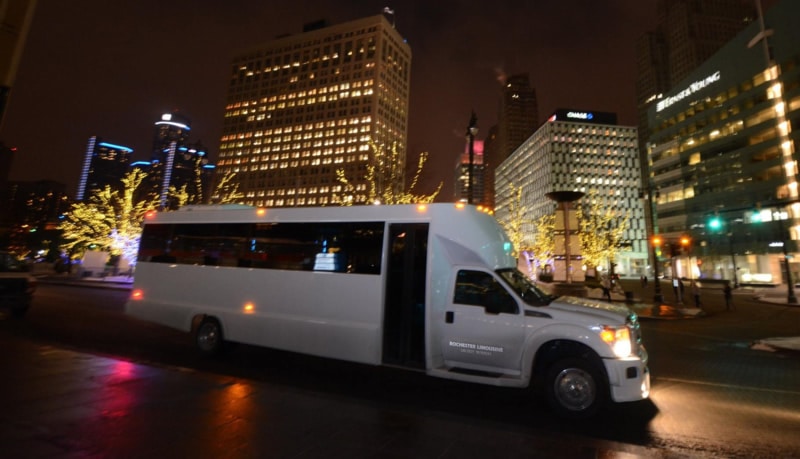 Party Bus Rental Four Towns MI
With more than 20 years of experience, Rochester Limousine is excited to help you enjoy "A Night To Remember" by offering you access to the most luxuriously affordable party bus rentals in Four Towns, MI. Four Towns is an appropriately named community located at the place where Waterford Township, West Bloomfield Township, Commerce Township, and White Lake Township all meet near Oakland Community College's Highland Lakes campus. Overall, Four Towns is not necessarily a super vibrant place to live, nor does it have many major attractions drawing in thousands of tourists annually, but what Four Towns does have in abundance is endless natural beauty and recreational potential. Surrounded by lakes and parks, Four Towns is a nature lover's dream with fishing, boating, aquatic sports, hiking/walking, and more, found in excess at numerous incredible neighboring destinations such as Elizabeth Lake, Union Lake, Cass Lake, Hess-Hathaway Park, Dodge Parks, the Proud Lake State Recreational Area, and many more. Of course, that means if you want to take advantage of more contemporary entertainment you have to branch out of Four Towns for a little while. That's okay though, because at Rochester Limousine we offer people in Four Towns and throughout the rest of Metro Detroit access to the best luxury party bus rentals anywhere around! So if you're a resident of Four Towns, all you have to do is reach out to one of our professionals to reserve a party bus rental, today, so you can start living your next adventure.
If you are in the Four Towns area and are looking for a party bus rental Four Towns MI, please contact us today by calling 248.289.6665 or by filling out the form below: