Party Bus Rental Waterford MI
Are you looking for a party bus rental Waterford MI?
Whether you are just looking for an exceptionally cozy ride for you and your friends to get to a show/concert or you need something truly impressive for an incredibly important occasion, our versatile party bus rentals, at Rochester Limousine, have more than enough features and amenities to exceed any expectation your may have. For instance, our party bus rentals all posses their own televisions, full-service bars, professional grade audio equipment, festive mood lighting, and more, while some of our larger party bus rentals even have their own custom-made hardwood dance floors! With our largest vehicles able to comfortably accommodate up to 45 people, you can feel confident that our services can handle groups of any size going anywhere. Your guests deserve the best, which means when it comes to choosing transportation and booking your party bus rentals you need to make sure you are looking in the right place. If you are looking for Metro Detroit's newest and hottest fleet of luxury vehicles, you have to browse through our party bus rentals at Rochester Limousine. Built for pure excellence, our party bus rentals were even voted the best in the area twice for their superiority!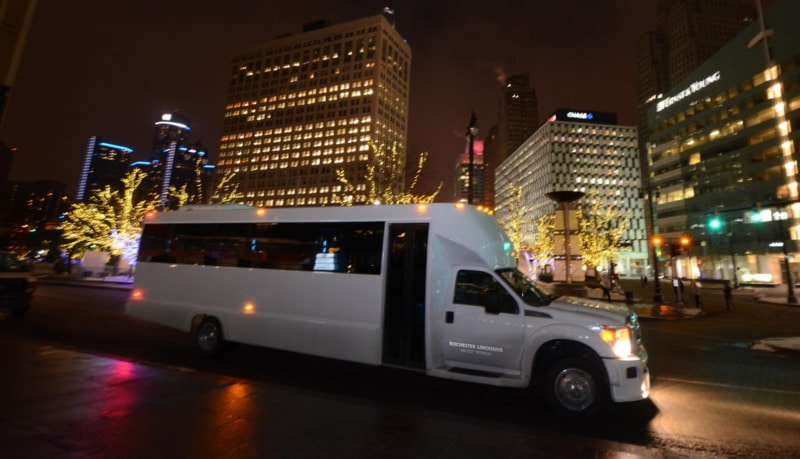 Party Bus Rental Waterford MI
With more than 20 years of experience, Rochester Limousine is excited to help you enjoy "A Night To Remember" by offering you access to the most luxuriously affordable party bus rentals in Waterford, MI. Inside Waterford Township, in Oakland County, the small historic village of Waterford thrives along the Dixie Highway and Andersonville Road. Although Waterford boasts beautiful homes and coveted proximity to several notable lakes and recreational areas throughout the county, it is also where many people go to take advantage of all kinds of other entertainment as well. Families especially love frequenting destinations like the Waterford Oaks Waterpark, the Waterford Lanes bowling alley, and the Waterford Historic Village Museum, while thrill seekers are more likely to enjoy an aerial tour at Magnum Helicopters or one of the many escape rooms. Overall, the entire Waterford area is filled with opportunities to succeed and enjoy oneself, which is perhaps why so many noteworthy residents have chosen to call this area their home. If you are one of the lucky natives of Waterford and you are looking for a way to really go above and beyond for your next date night, birthday, or any other of your most memorable moments – let our professionals at Rochester Limousine set you up with one of our truly amazing party bus rentals.
If you are in the Waterford area and are looking for a party bus rental Waterford MI, please contact us today by calling 248.289.6665 or by filling out the form below: