Party Bus Rental West Bloomfield MI
Are you looking for a party bus rental West Bloomfield MI?
If you want to make the most of your life, then you need to be prepared to go all out at every given opportunity. If you're attending a game or concert, celebrating a special holiday or moment, or just trying to get together with friends or family; go all out by reserving a party bus rental from Rochester Limousine. Our party bus rentals, at Rochester Limousine, are perfect for any occasion and can comfortably hold as many as 45 guests of all ages. Hosting a sweet 16 party? Try having a dance party in one of our huge party bus rentals. Taking a wine tasting trip with your book club? Loosen up on the way by grabbing a drink at your own personal bar inside your very own party bus rental. With incredible safety features and unbeatable one-the-road entertainment, you just can't surpass the party bus rentals at Rochester Limousine. Try as you might, you will never find a better party bus rental provider than Rochester Limousine.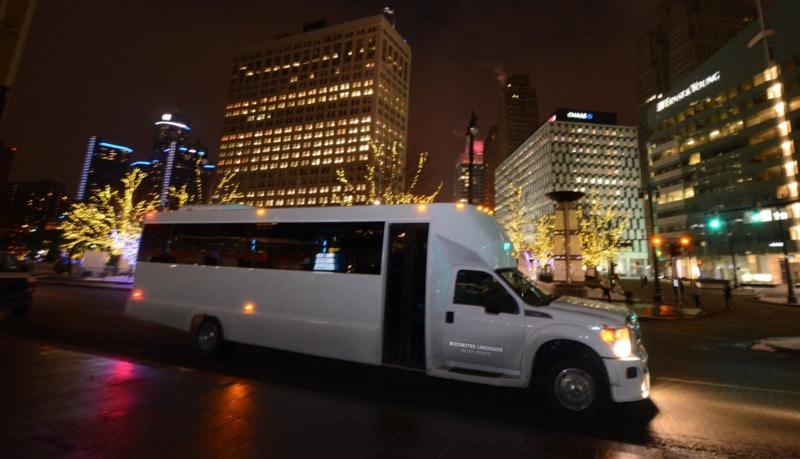 Party Bus Rental West Bloomfield MI
With more than 20 years of experience, Rochester Limousine is excited to help you enjoy "A Night To Remember" by offering you access to the most luxuriously affordable party bus rentals in West Bloomfield, MI. West Bloomfield is a township in Oakland County, with nearly 65,000 proud residents and the community of Westacres. Locals often refer to West Bloomfield as the "lake township of Oakland County" due to its numerous various sized lakes; however, there is more to this community than just excellent fishing, swimming, and boating. Aside from all the aquatic activities available throughout the year, West Bloomfield is home to many clean parks, illustrious country clubs, nature preserves, and even an art gallery. From the TreeRunner West Bloomfield Adventure Park and West Bloomfield Woods Nature Preserve and Nature Trail to the Art Leaders Gallery and Churchill's Cigar Bar, there is always something interesting and unique to enjoy in West Bloomfield no matter who you are. Whether you love the outdoors, but don't want to stray too far from metropolitan conveniences, or you're a city person through and through who doesn't want to sacrifice fresh air and natural beauty, West Bloomfield is the perfect place to live, work, and play. If you want to see West Bloomfield and other areas throughout Michigan the right way, call Rochester Limousine about reserving one of our insanely lavish, yet affordable, party bus rentals, today. You won't ever regret traveling VIP style in one of our party bus rentals.
If you are in the West Bloomfield area and are looking for a party bus rental West Bloomfield MI, please contact us today by calling 248.289.6665 or by filling out the form below: