Party Bus Rental White Lake MI
Are you looking for a party bus rental White Lake MI?
To get your hands on a party bus rental from Metro Detroit's newest and hottest fleet, you have to go to Rochester Limousine. Only our party bus rentals have all the latest and greatest entertainment systems and road safety technologies to help guarantee that your journey is truly a memorable one. From giant flat screens that let you watch the game from on the road to our professional grade sound equipment capable of turning any trip into a party, you simply can't get any better than the state-of-the-art party bus rentals at Rochester Limousine. Need enough room to bring your friends? No problem! In our largest party bus rentals, you can fit up to 45 people without anyone having to squeeze anything anywhere; just sit back, relax, and take advantage of all the great stuff our vehicles have to offer until you arrive safe and sound at your final destination. From concerts to prom, and every other special occasion in between, our party bus rentals can be there to enhance your experience so that you can cherish the memories for the rest of your life. Choose the most reliable, comfortable, and beloved party bus rentals in the city for your next night out – choose Rochester Limousine.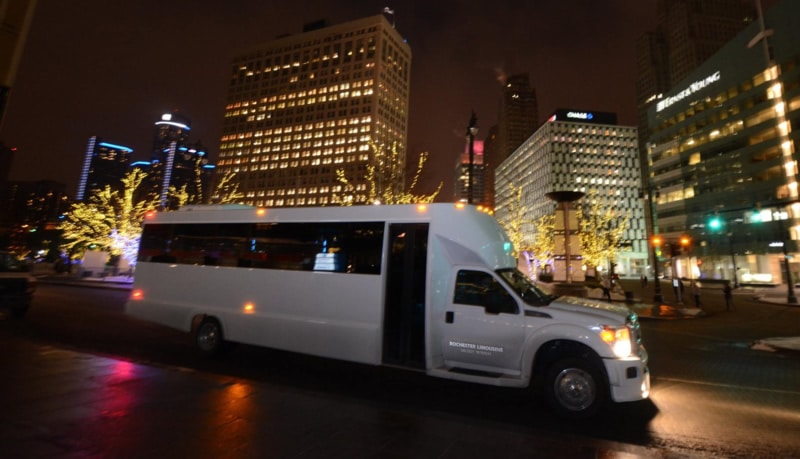 Party Bus Rental White Lake MI
With more than 20 years of experience, Rochester Limousine is excited to help you enjoy "A Night To Remember" by offering you access to the most luxuriously affordable party bus rentals in White Lake, MI. Not to be confused with East White Lake, which also resides in White Lake Charter Township, the simple Oakland County community of White Lake can be found at Ormond Road, and the aptly named White Lake Road. One of only three communities in the township, this rural town and its residents, are lucky to be so close to a ton of the area's best recreational destinations, including the Highland Recreational Area, Indian Springs Metro Park, the Edsel Ford estate, Haven Hill, Alpine Valley, the Pontiac Lake State Recreation Area, several golf courses, and more. In fact, White Lake is known for being one of the best destinations in the area for taking advantage of countless outdoor activities and popular seasonal sports throughout the year. Whether you're an adventurer at heart or you love peaceful afternoons and picnics on the beach, White Lake is a fantastic area to be able to call home. If you live in White Lake and want to take advantage of fantastic transportation for your next special event, trust our professionals at Rochester Limousine to handle all your needs with a party bus rental chosen just for you.
If you are in the White Lake area and are looking for a party bus rental White Lake MI, please contact us today by calling 248.289.6665 or by filling out the form below: