Party Bus Rental Lyon Township MI
Are you looking for a party bus rental Lyon Township MI?
If you want to experience the time of your life, you need to get onboard one of our party bus rentals at Rochester Limousine. Built for style, reliability, and non-stop entertainment, our party bus rentals are designed to include anything and everything you and your guests might need to celebrate any event or occasion. From personal holidays, like birthdays and anniversaries, to once-in-a-lifetime experiences, like seeing your favorite artist live, or catching all the exciting action at your favorite sports team's big game, our party bus rentals can ensure you arrive at your intended destination safe, on time, and in the right mood to enjoy your evening. Whether you have just a few friends tagging along or a massive group of up to 45 total people in your group, our party bus rental professionals can get you set up in just the right vehicle to secure a fabulous time for you all no matter where you're going. Don't wait another minute to get in touch with us to reserve your party bus rental – otherwise you'll regret it!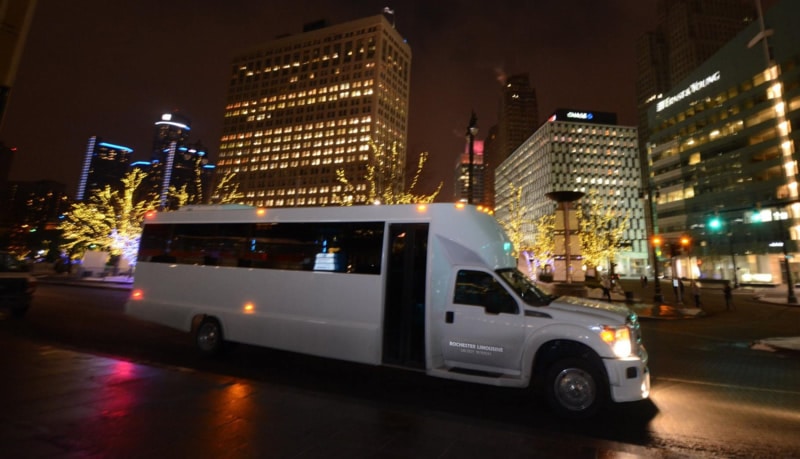 Party Bus Rental Lyon Township MI
With more than 20 years of experience, Rochester Limousine is excited to help you enjoy "A Night To Remember" by offering you access to the most luxuriously affordable party bus rentals in Lyon Township, MI. Located in Oakland County, Lyon Township and its communities, South Lyon, New Hudson, and Kensington, serve as home to just under 15,000 residents. Surrounded by parks on all sides, including Island Lake State Recreation Area, Kensington Metropark, Paradise Park, and Maybury State Park, to name a few, Lyon Township remains a wonderful spot to take advantage of a variety of recreation throughout the year. However, Lyon Township in itself is not necessarily one of the most rustic areas. Complete with several museums, brewing companies, nightclubs, theaters, and more, Lyon Township is a rather vibrant little city surrounded by nature and beauty. For instance, if you live in Lyon Township, you likely already know how many incredible things to see, do, and experience there are no matter who you are. Of course, that doesn't mean that you need stay in Lyon Township forever. If you ever feel like escaping for an evening with your friends or going somewhere special, Rochester Limousine can help you out with a luxury party bus rental unlike anything you've ever experienced. Don't let your comfortable life in Lyon Township keep you from having the adventure of a lifetime – reserve your party bus rental from Rochester Limousine, today!
If you are in the Lyon Township area and are looking for a party bus rental Lyon Township MI, please contact us today by calling 248.289.6665 or by filling out the form below: