Party Bus Rental New Hudson MI
Are you looking for a party bus rental New Hudson MI?
It's normal to want to keep all your friends and loved ones together when you're traveling, even if you're only traveling locally; it's simply an instinct to make sure everyone is kept safe and entertained until you all arrive at your destination. Fortunately, at Rochester Limousine, we make things a little easier by offering incredible party bus rentals capable of comfortably accommodating as many as 45 people to ensure that you never have to worry about splitting up your group ever again. In fact, no matter where you're going you can always feel confident that everyone will arrive at the correct place at the correct time when you reserve your party bus rental from Rochester Limousine thanks to our knowledgeable drivers and unbeatable vehicle safety. Of course, our party bus rental offer more than just unbeatable safety. From luxurious comfort to on-the-road entertainment, you won't find any other party bus rentals that can match up to ours. Our party bus rentals can turn any simple proms, birthday parties, bachelorette parties, concerts, sporting events, and more into truly extraordinary and unforgettable moments. By booking a party bus rental, for your next outing or event, with us at Rochester Limousine, you are guaranteeing that your guests enjoy the best possible traveling experience.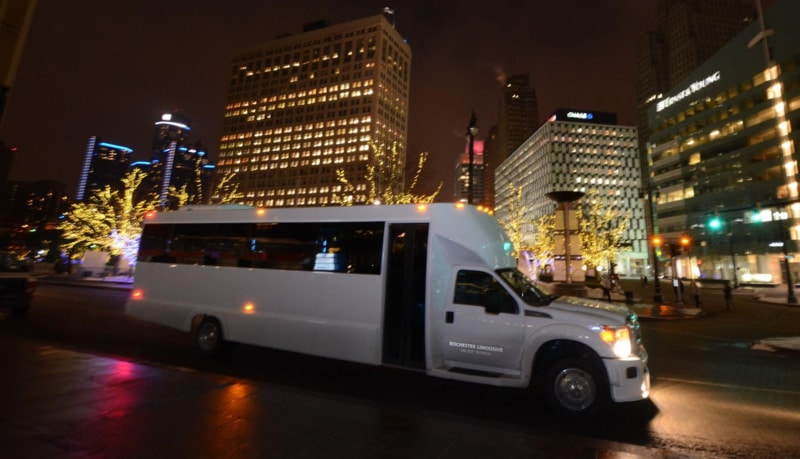 Party Bus Rental New Hudson MI
With more than 20 years of experience, Rochester Limousine is excited to help you enjoy "A Night To Remember" by offering you access to the most luxuriously affordable party bus rentals in New Hudson, MI. New Hudson is a wonderful little community located inside Lyon Township in Oakland County. Perfect for those who love to travel, New Hudson is ideally located near several major highways branching out over the area as well as the Oakland County Southwest Airport. In fact, New Hudson has always been a sort of "hub" for travel throughout the area, at one point in history even serving as a changing point on the New Hudson Station stage coach line. However, thanks to its central local amongst all the best methods of travel, New Hudson remains within range of all the best recreation and entertainment destinations nearby. Erwin's Orchard, the Huron Valley Rail Trail, Kent Lake, and the Island Lake State Recreation Area are all especially close to New Hudson, making them popular attractions for residents looking for something fun to do. However, if you live in New Hudson and you want to do something really unique, book a party bus rental from Rochester Limousine. No matter where you're taking it, it's sure to make your journey infinitely more exciting.
If you are in the New Hudson area and are looking for a party bus rental New Hudson MI, please contact us today by calling 248.289.6665 or by filling out the form below: