Party Bus Rental Kensington MI
Are you looking for a party bus rental Kensington MI?
If you have never traveled by party bus rental before, then you are missing out. Our party bus rentals at Rochester Limousine, are designed from top to bottom specifically to ensure a truly incredible, one-of-a-kind adventure for any group of passengers. We have flat screens, sound systems, private bars, and more onboard to keep everyone entertained, not to mention exceptionally knowledgeable and reliable drivers to ensure your party bus rental is always where it needs to be when it needs to be there. In fact, our party bus rentals have even been formally recognized for their superior excellence – being voted number one in all of Metro Detroit two years running! So whether you're getting a massive group together to celebrate a special event, or you're keeping your ladies/guys night-out just between you and a few close friends, we are more than confident we have a party bus rental that is perfect for you! Capable of taking you and up to 44 guests on possibly the greatest voyage of your lives, our party bus rentals at Rochester Limousine are always ready for any and every adventure!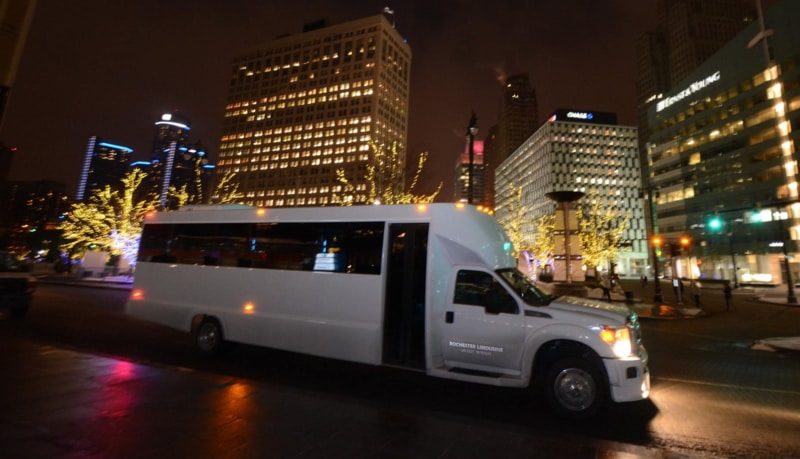 Party Bus Rental Kensington MI
With more than 20 years of experience, Rochester Limousine is excited to help you enjoy "A Night To Remember" by offering you access to the most luxuriously affordable party bus rentals in Kensington, MI. The tiny village of Kensington, in Oakland County, is an unincorporated community with a few residential families and a rather peculiar history. Originally in the 1800's, Kensington was a thriving little neighborhood, with a stop right along the railroad. However, after the railroad was later diverted to make way for the Detroit, Lansing and Lake Michigan Railroad, Kensington's population began to decrease at alarming rates – later making room for new developments that would repurpose the area. Today, the village of Kensington is still home to a few families, but is now mostly home to I-96 and the Kensington Metropark. Of course, the Kensington Metropark is a wildly popular recreational area for residents and tourists from throughout the area, and is right up against Island Lake State Recreation Area. However, if you live near Kensington, and want to take advantage of something more exciting than endless hiking, boating, and fishing in Michigan's great outdoors, Rochester Limousine has you covered. Just choose which of our incredible party bus rentals you'd like to take for a ride, where you want to go, and we'll set everything up!
If you are in the Kensington area and are looking for a party bus rental Kensington MI, please contact us today by calling 248.289.6665 or by filling out the form below: