Party Bus Rental Elizabeth Lake MI
Are you looking for a party bus rental Elizabeth Lake MI?
There's never been a better time than right now to take advantage of the newest and hottest fleet of party bus rentals and other luxury vehicles, available only at Rochester Limousine. Whether you are getting your family together for a special event, like a wedding or family reunion, or you are simply trying to get some friends together for a night out on the town, reserving a party bus rental is the fastest way to get everyone "onboard" for a night of fun. From top-of-the-line comfort and genuine reliability, to endless onboard entertainment features, like personal bars and flat screen televisions, our party bus rentals are designed inside and out for complete and total satisfaction. With all the festive lighting and pro quality sound, you'll even feel like you're in your own private VIP lounge wherever you need to go – especially since our largest party bus rental can hold as many as 45 people! Overall, if you want to impress your guests and guarantee that your adventure is truly a one-of-a-kind experience, you have to trust that our experts at Rochester Limousine will set you up with a party bus rental that is perfect for you. And don't worry, our incredible fleet of party bus rentals was voted number one in all of Metro Detroit twice in a row for being extraordinary, so you know you'll be getting the best of the best.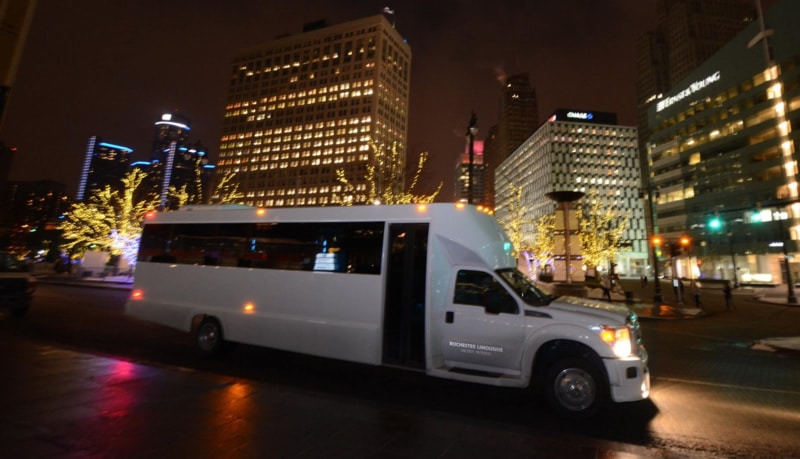 Party Bus Rental Elizabeth Lake MI
With more than 20 years of experience, Rochester Limousine is excited to help you enjoy "A Night To Remember" by offering you access to the most luxuriously affordable party bus rentals in Elizabeth Lake, MI. Elizabeth Lake is a stunning body of water, as well as the 13th largest lake in Oakland County. However, it's also the name of a pleasant little community on the shores of Elizabeth Lake in Waterford Township. In fact, surrounded by lakes, rivers, creeks, and streams of all kinds and sizes, the aptly named little town of Elizabeth Lake is an aquatic paradise if ever there was one. Perfectly suited for boaters, fishermen, and other environmental enthusiasts, Elizabeth Lake is simply in a great location to take advantage of all kinds of outdoor entertainment. Of course, aside from being surrounded by beauty and nature, Elizabeth Lake is also close to some of the nicer major neighborhoods in Metro Detroit, including Pontiac, West Bloomfield, and more, which offer access to concert halls, museums, and other more contemporary means of entertainment. However, if you really want to make your trip outside of Elizabeth Lake special, you need to think about how you're going to get to all these exciting new places. Luckily, that's where we come in. If you're a resident of Elizabeth Lake, we encourage you to take advantage of one of our amazing party bus rentals at Rochester Limousine today. We're confident that you'll be glad you did!
If you are in the Elizabeth Lake area and are looking for a party bus rental Elizabeth Lake MI, please contact us today by calling 248.289.6665 or by filling out the form below: