Party Bus Rental Brandon Gardens MI
Are you looking for a party bus rental Brandon Gardens MI?
Newest, hottest, most reliable, most comfortable, stunning, extraordinary – there are countless ways to describe our exceptional fleet of party bus rentals, and other luxury vehicles, at Rochester Limousine. From the top-of-the-line safety-inspired design to the built-in entertainment systems, our party bus rentals are strategically engineered for excellence in every way. Equipped with flat screens, sound systems, festive lighting, full-service bars, and more, our party bus rentals are more than ready to keep any group of passengers entertained no matter where you're going or how long it takes to get there. Trust us, in a fully-stocked party bus rental that can easily hold as many as 45 adults, you can always feel confident that your friends, family, and guests are always comfortable, entertained, and most importantly safe, at all times. To experience superior transportation you have to choose our superior party bus rentals at Rochester Limousine. We were voted number one in Metro Detroit for good reason so don't wait too long to start booking transportation for your next upcoming event. Reserve your party bus rental, today!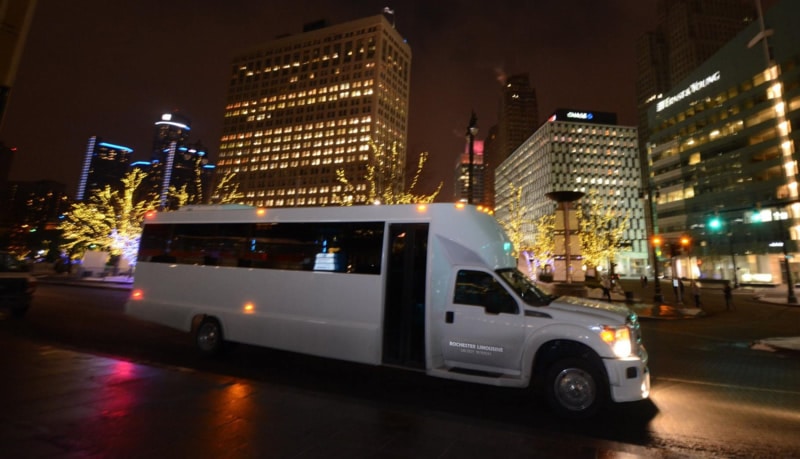 Party Bus Rental Brandon Gardens MI
With more than 20 years of experience, Rochester Limousine is excited to help you enjoy "A Night To Remember" by offering you access to the most luxuriously affordable party bus rentals in Brandon Gardens, MI. Right smack dab in the midst of some of the best recreation in the area, the small community of Brandon Gardens, in Brandon Township of Oakland County, offers a one-of-a-kind way of life on Bald Eagle Lake, Lake Louise, Huff Lake, and Long Lake. As far as being near major Michigan attractions, Brandon Gardens is just east of the Holly Recreation Area and Groveland Oaks County Park, north of Cook's Dairy Farm and Ashton Orchards, and south of the Ortonville Recreation Area. When it comes to being near great boating hot spots and fishing holes, you just can't beat Brandon Gardens. Plus, unlike most other small and seemingly isolated communities, Brandon Gardens has access to some pretty amazing restaurants. Between Brandon Gardens and Ortonville on S Ortonville Rd., all the area's best dining can be found, including Escamilla Amigos and Ken's Coney Island Restaurant. Overall, regardless of how small or humble Brandon Gardens may seem, it truly is a wonderfully unique place to call home. If you are one of the lucky residents of Brandon Gardens and you are looking to go all out for something special coming up in your life, let our experts at Rochester Limousine help enhance your experience with a party bus rental chosen specially for you.
If you are in the Brandon Gardens area and are looking for a party bus rental Brandon Gardens MI, please contact us today by calling 248.289.6665 or by filling out the form below: