Party Bus Rental Brandon Township MI
Are you looking for a party bus rental Brandon Township MI?
Party bus rentals are quickly becoming everyone's favorite means of luxury transportation. However, there are still many people who believe that party bus rentals are only for the wealthy and elite. Thankfully, Rochester Limousine is here to clear up some misconceptions. Party bus rentals are not only 100% reliable, unbeatably safe, and extraordinarily comfortable; they are also exceptionally affordable. You can take advantage of a party bus rental for any kind of occasion or event without breaking the bank, and have the freedom to invite as many as 45 people to tag along. Going to see a concert? Take a party bus rental and jam out to all your favorite tunes on the road, thanks to the state-of-the-art sound systems and pro lighting features. Celebrating your upcoming nuptials? Our party bus rentals come with full-service bars to keep you and your guests entertained the entire night. Watch all the action of your favorite sporting event live on a big screen right from on the road, and arrive at the best tailgating party of your life in time to be named king of guys night till the end of time. The versatility of our party bus rentals at Rochester Limousine is endless. Whatever you need, we've got it handled.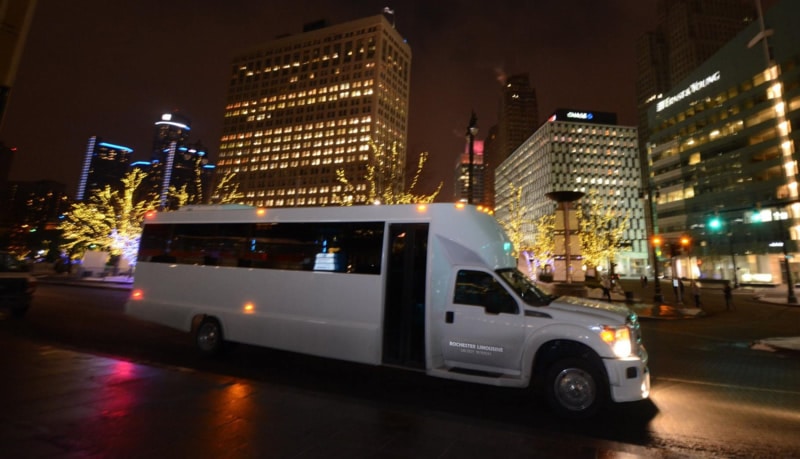 Party Bus Rental Brandon Township MI
With more than 20 years of experience, Rochester Limousine is excited to help you enjoy "A Night To Remember" by offering you access to the most luxuriously affordable party bus rentals in Brandon Township, MI. Brandon Township is located in Oakland County and serves the more than 15,000 residents spread across its communities of Ortonville, Brandon Gardens, Oakwood, and Perry Lake Heights. Brandon Township was originally established by descendants of the settlers in the Town of Brandon, Vermont, for whom the township was named in honor of. Their migration to Michigan took place in 1837, which means that Brandon Township's humble communities have thrived for more than 150 years. With plenty of rural beauty and charm to offer, Brandon Township is able to provide its residents with an acceptably simple life. A number of community services and programs also help residents of Brandon Township stay connected and entertained throughout the year. Kids especially love the summer water park trips, basketball tournaments, Art in the Park and Movie Night, and Brandon Township's annual Septemberfest. Other summer programs in Brandon Township include various sport instructional camps for T-ball, tennis, and more. If you love your hometown but wish to see just a little bit more in life, trying being bold by acquiring a party bus rental for your next event or special occasion. Turn any small town into party town today with a party bus rental from Rochester Limousine.
If you are in the Brandon Township area and are looking for a party bus rental Brandon Township MI, please contact us today by calling 248.289.6665 or by filling out the form below: