Party Bus Rental Ortonville MI
Are you looking for a party bus rental Ortonville MI?
In Metro Detroit, the newest and hottest fleet of party bus rentals, and other luxury vehicles belongs to Rochester Limousine. In fact, whether you're celebrating an upcoming wedding, going to a concert, tailgating at the big game, or just going all out for your night on the town because you know you deserve it, our party bus rentals are your best chance at guaranteeing a night to remember. From their unbeatable road safety and interior comfort to their collection of entertainment amenities and spacious cabins (capable of seating up to 45 people), our party bus rentals are simply the most reliable when it comes to ensuring a positive experience. Thanks to our incredible party bus rentals, you can enjoy your event or special occasion like you never have before and impress everyone who tags along. From prom nights to date nights and everything in between, our party bus rentals are sure to make any special night exponentially more magical. Our party bus rentals and luxury vehicles were voted number one twice in a row for good reason, so book yours now!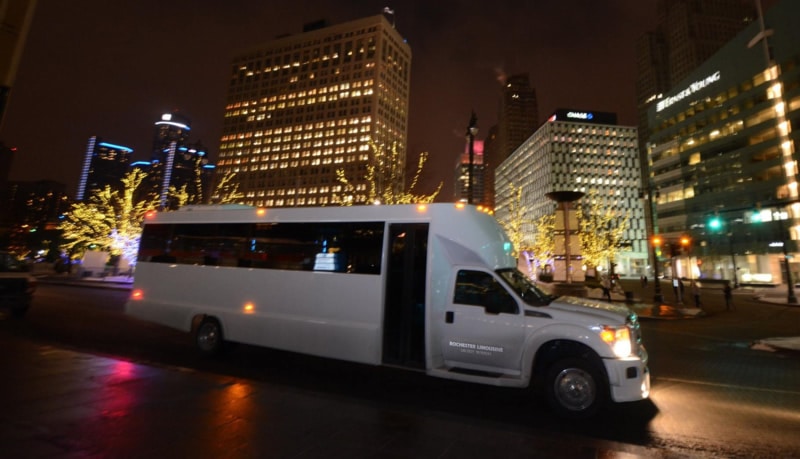 Party Bus Rental Ortonville MI
With more than 20 years of experience, Rochester Limousine is excited to help you enjoy "A Night To Remember" by offering you access to the most luxuriously affordable party bus rentals in Ortonville, MI. Just over 40 miles from downtown Detroit, the less than 1,500 residents of the small rural village of Ortonville, in Oakland County, live a simple and humble life. Ortonville offers residents access to great educational opportunities through Brandon Township's school district, incredible rustic views, and more. For fresh produce and other delicious homemade items, Cook's Dairy Farm and Ashton Orchards are both wonderful places found in Ortonville that are fun for the whole family. Of course, for adults, Ortonville offers a couple of truly great "watering holes" to help you wind down with your loved ones, such as The Boat Bar and Village Pub. Other attractions and destinations near Ortonville include the Holly Recreational Area, the DTE Energy Music Theatre, Jump Island, the Ortonville Recreation Area, and many more. If you live in Ortonville and want to go out and see all the other incredible sites and experience all the other amazing opportunities out there, let our transportation professionals at Rochester Limousine help make your journey even more exciting with a party bus rental picked out just for you! Bring your friends, bring your family, and bring your sense of adventure because you won't find another luxury transportation company quite like ours.
If you are in the Ortonville area and are looking for a party bus rental Ortonville MI, please contact us today by calling 248.289.6665 or by filling out the form below: