Party Bus Rental Armada Township MI
Are you looking for a party bus rental Armada Township MI?
Not having to worry or take care of anything when you're celebrating is the best, which is why at Rochester Limousine, we're in the business of helping people relax and enjoy their freedom on the road with fully-equipped luxury party bus rentals, designed to facilitate the most convenient and enjoyable traveling experience possible. In fact, whether you're talking about comfort, safety, or entertainment, our party bus rentals always come out on top. It's why we were voted number one two years in a row! From special trips on special occasions, to holidays and birthdays, you won't find better transportation than the party bus rentals at Rochester Limousine. With space for up to 45 passengers, and endless amenities to keep anyone entertained onboard our largest party bus rentals, you can feel as confident about the safety and well-being of your group, as we are about our ability to exceed your expectations. Why? Our secret to success is simple – no gimmicks or misinformation. We succeed by providing extraordinary services and offering the best, newest, and hottest fleet of party bus rentals in all of Metro Detroit. Don't believe us? Try us out for yourself by reserving your party bus rental from Rochester Limousine today!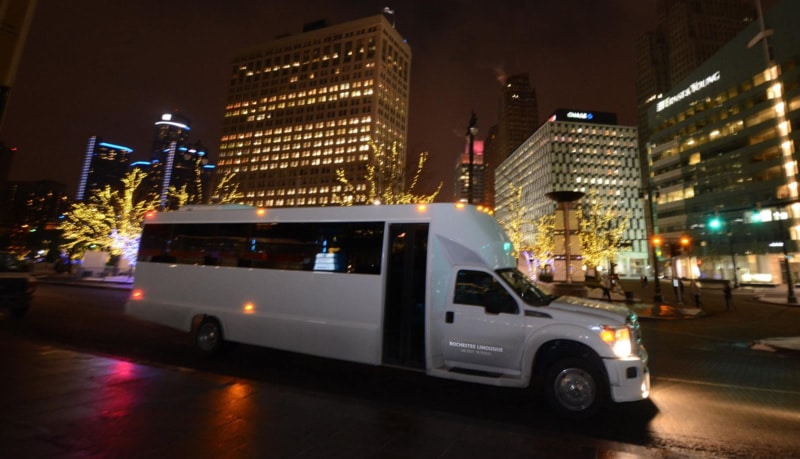 Party Bus Rental Armada Township MI
With more than 20 years of experience, Rochester Limousine is excited to help you enjoy "A Night To Remember" by offering you access to the most luxuriously affordable party bus rentals in Armada Township, MI. The quiet and peaceful nature of Armada Township, in Macomb County, makes it the perfect home for the more than 5,000 people who live there. Of course, what's not to love about Armada Township's charming neighborhoods, proximity to both Lake St. Clair and the southern tip of Lake Huron, and the not so bad commute to downtown Detroit? Sure, Armada Township may not have many shops and landmarks to call it's own, but it sure does have plenty to be proud of. This rural, agricultural territory boasts natural beauty unlike anywhere else, plus you won't find fresher apples than the ones in Armada Township. If you do feel like enjoying something exciting, Armada Township is close to an abundance of opportunities right next door in Rochester Hills, Auburn Hills, Sterling Heights, and many more. Armada Township may not always be everyone's go-to destination for five star restaurants and thrilling adventures, but it is a remarkable place to live no matter who you are. However, if you live in Armada Township and you are looking for a bit of adventure, our experts at Rochester Limousine can help. After all, what's more adventurous that going all out and booking a party bus rental for you and all your friends?
If you are in the Armada Township area and are looking for a party bus rental Armada Township MI, please contact us today by calling 248.289.6665 or by filling out the form below: