Party Bus Rental Sterling Heights MI
Are you looking for a party bus rental Sterling Heights MI?
Let's be honest, we all live for those moments when we can just kick our feet up and relax with our friends, which is why when you finally have the rare opportunity to do so you should make the absolute most out of it by renting a party bus. Whether you're celebrating an upcoming wedding or a significant birthday, you can make the biggest occasions even more special for the special people in your life by booking a party bus rental from Rochester Limousine. Enjoy VIP treatment, comfortable accommodations for you and up to 44 guests (for a total of 45 passengers), bar access while on the road, televisions and professional quality sound systems, and so much more by booking your party bus rental with Rochester Limousine. Our trained party bus rental transportation experts are excited to help you choose the party bus rental you need to ensure that you are traveling comfortably, in style and without regret. It's never been more affordable to be this fabulous, just ask our luxury party bus rental pros at Rochester Limousine.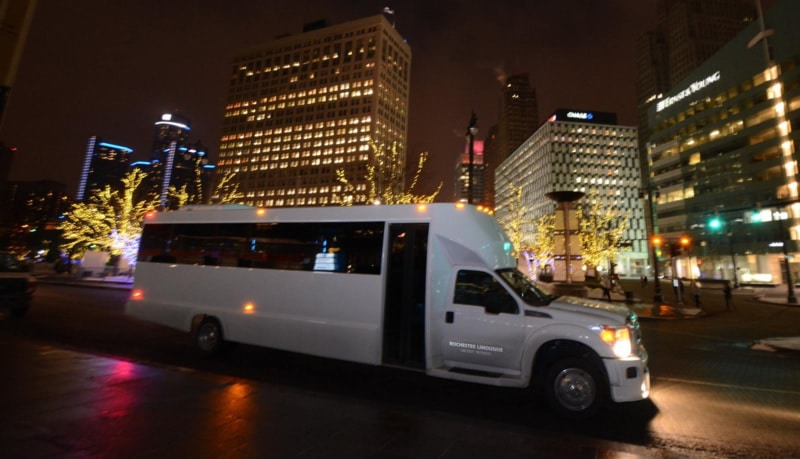 Party Bus Rental Sterling Heights MI
With more than 20 years of experience, Rochester Limousine is excited to help you enjoy "A Night To Remember" by offering you access to the most luxuriously affordable party bus rentals in Sterling Heights, MI. Squeezing just under 130,000 residents into a less than 40 square mile perimeter, the Macomb County city of Sterling Heights is proud to boast its recognition as one of the safest cities in the entire state of Michigan. In fact, Sterling Heights is proud of a lot of things. Specialty museums, like the GM Heritage Center, theaters like AMC Forum 30 and MJR Marketplace Digital Cinema 20, malls, trails, entertainment centers, bars and nightclubs, golf courses, spas, and more keep the residents of Sterling Heights entertained while events, community programs, and volunteer opportunities help inspire kindness and facilitate a stronger communal bond. Whether you are hungry for delicious meals at places like The Pantry, Ike's Restaurant, Sterling's Bistro, and more, or hoping to find the perfect cocktail at bars like Mackenzie's Tavern and The Island Bar and Grill, you are sure to find what you're looking for in Sterling Heights. However, to find the best party bus rentals and other luxury transportation in the area, you need Rochester Limousine. From epic nights out on the town to scheduled events you just cannot miss, Rochester Limousine can help you arrive safe, sound, and on time with an affordable party bus rental you'll love.
If you are in the Sterling Heights area and are looking for a party bus rental Sterling Heights MI, please contact us today by calling 248.289.6665 or by filling out the form below: