Limousine Service Waterford MI
Are you looking for limousine service Waterford MI?
No matter who it is you're trying to impress, our remarkable limousine service at Rochester Limousine never disappoints. For instance, if you're celebrating a momentous life cycle event, like a wedding or birthday, your friends and family will be astounded by our limousine service's dedication to luxury accommodations and entertainment. On the other hand, if you're trying to astound your superiors, clients, and co-workers at some sort of upscale business/chartable event, our limousine service is full of sophisticated, elegant vehicles guaranteed to have everyone's jaws dropping. Either way, you can rest easy knowing that you are going to have absolutely everything you need for whatever type of adventure you're embarking on when you trust our limousine service. After all, from our smallest 9-seater Chrysler 300 model, to our largest and most extravagant 20-seater Suburban Stretch, you won't find a more reliable, safe, luxurious fleet of award-winning vehicles anywhere else than Rochester Limousine! Each and every one of our luxury vehicles is designed to offer you something no other day-to-day vehicle can. So hurry up and reserve our limousine service at Rochester Limousine today. Whether you have a local party in Waterford you want to show up to ready to turn some heads, or you have a important function outside the city, you won't regret choosing our limousine service for one minute!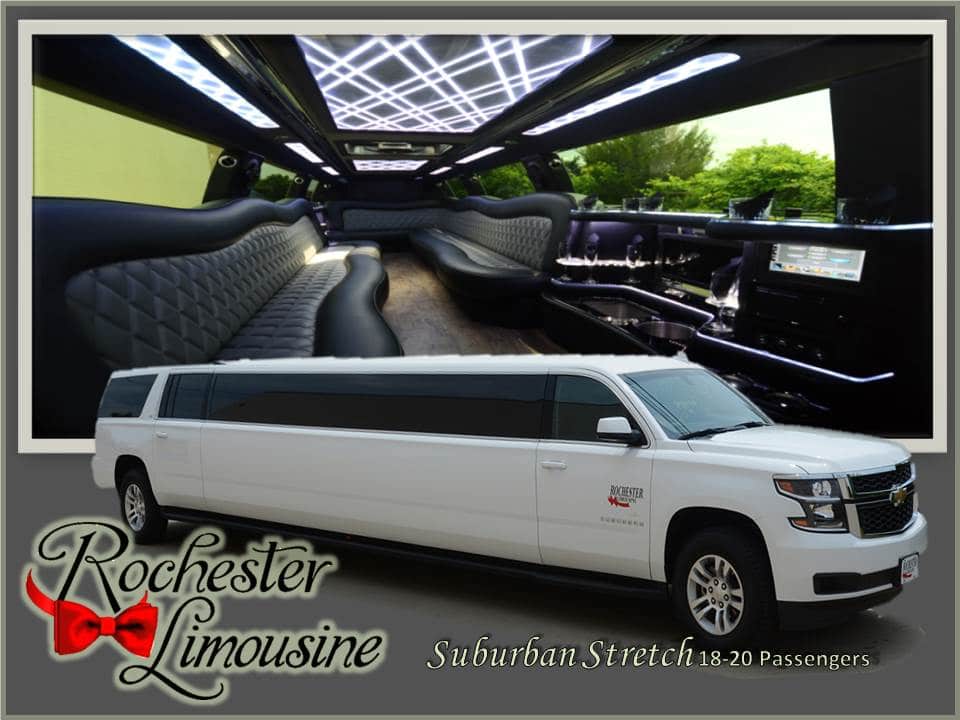 Limousine Service Waterford MI
With more than 20 years of experience, Rochester Limousine is excited to help you enjoy "A Night To Remember" by offering you access to the most luxurious limousine services in Waterford, MI. Clintonville, Drayton Plains, Elizabeth Lake, Four Towns, and Waterford Village all call the Charter Township of Waterford in Oakland County home, meaning more than 70,000 people are able to take advantage of its 30+ lakes, wealth of diversity, exceptional communal safety, and other worthwhile amenities. In fact, famous athletes, Olympians, and entertainers have all called Waterford home. You just can't beat its thrilling assortment of local attractions and opportunities, including the Waterford Historic Village and Magnum Helicopters. However, you can make sure every adventure in Waterford is even more special by taking advantage of Metro Detroit's number one limousine service, available only at Rochester Limousine. With our help, there isn't a place in or outside Waterford you can go that you won't have a beyond incredible experience! So trust us, and let us prove to you just how satisfying and worth it it is to let seasoned professionals, like ours, handle all your transportation needs.
If you are in the Waterford area and are looking for limousine service Waterford MI, please contact us today by calling 248.289.6665 or by filling out the form below: